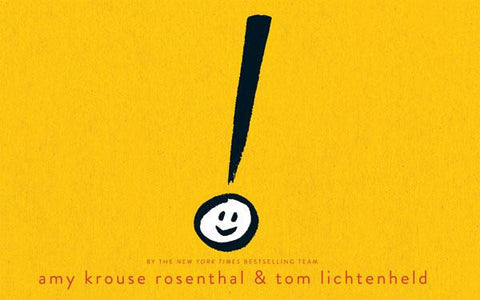 Exclamation Mark by Amy Krouse Rosenthal (Hardback)
From the bestselling creators of Duck! Rabbit!, an exciting tale of self-discovery!

He stood out here.

He stood out there.

He tried everything to be more like them.

It's not easy being seen. Especially when you're NOT like everyone else. Especially when what sets you apart is YOU.

Sometimes we squish ourselves to fit in. We shrink. Twist. Bend. Until -- ! -- a friend shows the way to endless possibilities.

In this bold and highly visual book, an emphatic but misplaced exclamation point learns that being different can be very exciting! Period.
Reading Level: 5+
*Despite our best efforts to predict the demand for books, the magical spells we use sometimes fail us. So to check if we have the book in-stock before you place your order, contact us at 6702 2452 or drop us an email at myimaginationkingdom@gmail.com
Reviews:
"An adorable picture book about an exclamation mark that feels like he doesn't belong amongst his period friends. It's not until he meets the chatty question mark that he realizes his true strengths (in yelling) and regains his pride.

The art is endearly simple and fits well with the brief simple story. This is a quick book that can easily be read to a young age group.

FYI: There is a small, cute scene at the every end that many many miss if they do not read past the copyright material. It marks the character exclamation point much more endearing as he's somewhat of a jerk for yelling at Question Mark (although that was the whole point of the story I suppose, so we won't hold it against him). "
"Exclamation Mark is so clever! It is both educational and a great story. It would be perfect for teaching kids the difference between periods, exclamation marks, and question marks."
Click here to read the original reviews
Related products