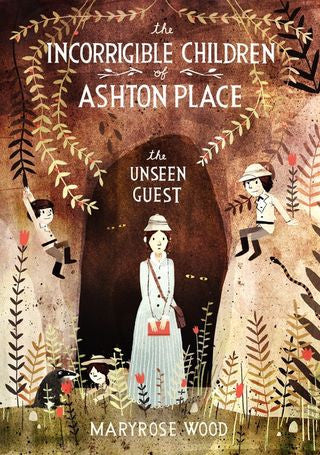 The Incorrigible Children of Ashton Place Book 3: The Unseen Guest by Maryrose Wood (Paperback)
Of especially naughty children it is sometimes said, "They must have been raised by wolves."
The Incorrigible children actually were.
Since returning from London, the three Incorrigible children and their plucky governess, Miss Penelope Lumley, have been exceedingly busy. Despite their wolfish upbringing, the children have taken up bird-watching, with no unfortunate consequences—yet. And a perplexing gift raises hard questions about how Penelope came to be left at the Swanburne Academy for Poor Bright Females and why her parents never bothered to return for her.
But hers is not the only family mystery to solve. When Lord Fredrick's long-absent mother arrives with the noted explorer Admiral Faucet, gruesome secrets tumble out of the Ashton family tree. And when the admiral's prized racing ostrich gets loose in the forest, it will take all the Incorrigibles' skills to find her.
The hunt for the runaway ostrich is on. But Penelope is worried. Once back in the wild, will the children forget about books and poetry and go back to their howling, wolfish ways? What if they never want to come back to Ashton Place at all?
*Despite our best efforts to predict the demand for books, the magical spells we use sometimes fail us. So to check if we have the book in-stock before you place your order, contact us at 6702 2452 or drop us an email at myimaginationkingdom@gmail.com
Reading Level: 10-12
Reviews:
"I am 7 years old and love reading (my dad is typing this for me)! I have read the other 2 books in the series and my dad pre-ordered this one a while ago. I received it on Monday and just finished it today. I think it was the best one in the series. I thought it was funny & mysterious. I liked the way the children had funny names for everyone. I thought in the end they would figure out that Penelope was their big sister, but you will have to read it and find out for yourself! I think this book series is as good as the Mysterious Benedict Society but probably not as good as the Narnia series. How long will I have to wait for the 4th book to come out?"
"This book was very enjoyable. I and my grandchildren liked it and will make sure to get book four when it comes out in paperback."
Click here for the original reviews
Related products