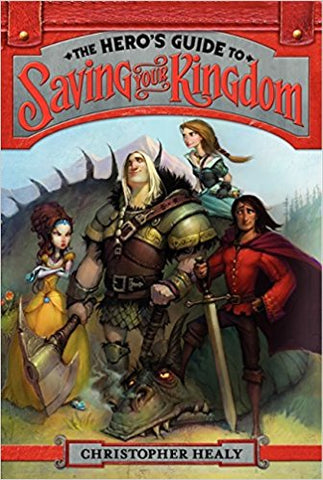 The Hero's Guide to Saving Your Kingdom by Christopher Healy (Paperback)
Prince Liam. Prince Frederic. Prince Duncan. Prince Gustav. You've never heard of them, have you? These are the princes who saved Sleeping Beauty, Cinderella, Snow White, and Rapunzel, respectively, and yet, thanks to those lousy bards who wrote the tales, you likely know them only as Prince Charming. But all of this is about to change.

Rejected by their princesses and cast out of their castles, the princes stumble upon an evil plot that could endanger each of their kingdoms. Now it's up to them to triumph over their various shortcomings, take on trolls, bandits, dragons, witches, and other assorted terrors, and become the heroes no one ever thought they could be.

Christopher Healy's Hero's Guide to Saving Your Kingdom is a completely original take on the world of fairy tales, the truth about what happens after "happily ever after." It's a must-have for middle grade readers who enjoy their fantasy adventures mixed with the humor of the Diary of a Wimpy Kid books. Witty black-and-white drawings by Todd Harris add to the fun. 
*Despite our best efforts to predict the demand for books, the magical spells we use sometimes fail us. So to check if we have the book in-stock before you place your order, contact us at 6702 2452 or drop us an email at myimaginationkingdom@gmail.com
Reading Level: 10-12
Reviews:
"For some reason, the cover of this book didn't immediately grab me. And the premise seemed a little too "wink wink nudge nudge see what I did there." But after having so many friends recommend this book, I just had to try it.

LAUGHED SO HARD.

This is an absolutely hilarious look at what life is like for "Prince Charming." Does he have a name? Is he the same guy who saved Rapunzel, Cinderella, Sleeping Beauty, and Snow White? (The answers: yes, and no!) 

The princes were instantly endearing, and their personality clashes and various backstories and mishaps were both humorous and heartfelt. I just adored this book so much! It was so cute (without being saccharine) that I just want to EAT IT! I am so excited to give this to my 8 year old, he will LOVE it!"
Click here for the original reviews
Related products