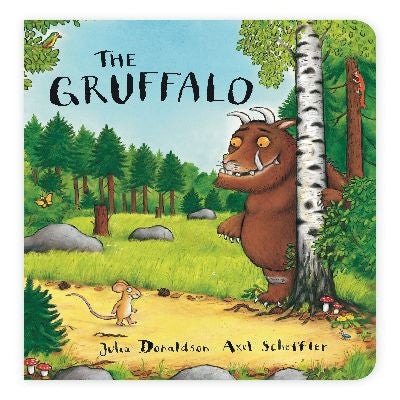 The Gruffalo by Julia Donaldson (Board Book) Winner of 1999 Smarties Book Prize
When Mouse takes a stroll through the woods, he meets a fox, an owl, and a snake who all want to eat him! So Mouse invents a gruffalo, a monster with "terrible tusks and terrible claws, terrible teeth, and terrible jaws." But will Mouse's frightful description be enough to scare off his foes? After all, there's no such thing as a gruffalo . . . is there? Sturdy pages and a cozy trim make this rhyming read-aloud perfect for preschoolers. 
*Despite our best efforts to predict the demand for books, the magical spells we use sometimes fail us. So to check if we have the book in-stock before you place your order, contact us at 6702 2452 or drop us an email at myimaginationkingdom@gmail.com
Reading Level: 3+
Review:
"I read this book to my kindergarten class and they LOVE it! The children act it out, sequence the story through pictures, journal about it and talk about it for months it is one of their favorites and mine too! I love reading it because they get so excited and it is so much fun to read over and over!"
"The Gruffalo is a beautifully illustrated classic kids road story. Buy it for your children, you will both love it."

Click here for the original reviews
Related products