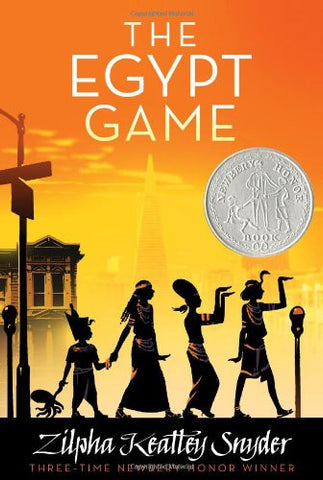 The Egypt Game by Zilpha Keatley Snyder (Paperback) Winner of 1966 Newbery Honor Award
The first time Melanie Ross meets April Hall, she's not sure they have anything in common. But she soon discovers that they both love anything to do with ancient Egypt. When they stumble upon a deserted storage yard, Melanie and April decide it's the perfect spot for the Egypt Game. Before long there are six Egyptians, and they all meet to wear costumes, hold ceremonies, and work on their secret code. Everyone thinks it's just a game until strange things start happening. Has the Egypt Game gone too far?
*Despite our best efforts to predict the demand for books, the magical spells we use sometimes fail us. So to check if we have the book in-stock before you place your order, contact us at 6702 2452 or drop us an email at myimaginationkingdom@gmail.com
Reading Level: 10-12
Reviews:
"I read this book when I was in the fourth grade. (My best friend and I were reading through the shelf of award winners.) She read it next. As soon as she finished the book, we set up our own game, a cross between the Egypt Game and what we'd understood from her older sister's class production of Macbeth. We had hours of fun playing that way, and I loved having a book that showed characters who played imaginatively. (And there aren't that many role models who don't spend all their time on their computers or on the organized sports field these days. See the preceding review from the person who said that she didn't like the way the characters used too much "imagination." <sigh> I ordered this book recently to read aloud to my third graders, and they loved it! Now there are several Games going on in our neighborhood. The book was as good as I remembered it."
"My eight-year-old daughter and I enjoyed reading this book out loud (she is pretty much obsessed with ancient Egypt at the moment.) A good read, with good lessons about not always believing your first impressions of people."
Click here for the original reviews
Related products