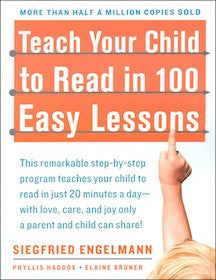 Teach Your Child to Read in 100 Easy Lessons by Siegfried Engelmann (Paperback)
Is your child halfway through first grade and still unable to read? Is your preschooler bored with coloring and ready for reading? Do you want to help your child read, but are afraid you'll do something wrong?
SRAs DISTAR® is the most successful beginning reading program available to schools across the country. Research has proven that children taught by the DISTAR® method outperform their peers who receive instruction from other programs. Now for the first time, this program has been adapted for parent and child to use at home. Teach Your Child to Read in 100 Easy Lessons is a complete, step-by-step program that shows patents simply and clearly how to teach their children to read.
Twenty minutes a day is all you need, and within 100 teaching days your child will be reading on a solid second-grade reading level. It's a sensible, easy-to-follow, and enjoyable way to help your child gain the essential skills of reading. Everything you need is here -- no paste, no scissors, no flash cards, no complicated directions -- just you and your child learning together. One hundred lessons, fully illustrated and color-coded for clarity, give your child the basic and more advanced skills needed to become a good reader.
Teach Your Child to Read in 100 Easy Lessons will bring you and your child closer together, while giving your child the reading skills needed now, for a better chance at tomorrow.
*Despite our best efforts to predict the demand for books, the magical spells we use sometimes fail us. So to check if we have the book in-stock before you place your order, contact us at 6702 2452 or drop us an email at myimaginationkingdom@gmail.com
Reading Level: Parents & Teachers
Reviews:
"I'm so impressed with how this book was put together. The lessons are fool proof for the parent, as they are written with detailed directions. New sounds are gradually worked into previously mastered tasks so that the child is never given more than he/she can handle (this does wonders for my daughter's reading confidence). Before you know it, your child is reading three and four paragraphs, and the process of getting there wasn't painful at all!
One note: I have read other reviews from parents using this book with 3 and 4 year olds. Certainly, if your preschooler shows an interest in reading, this book is an excellent choice. But NOTHING will work unless your child is READY to learn, not even "100 Lessons." Reading readiness happens at different ages (like every other milestone in childhood), and we as parents must respect our children's personal timetables (difficult to do sometimes, I know). Hey, remember when WE were in kindergarten? We spent our days playing, painting, napping (do they even nap anymore these days). Reading came along in first grade, and many of us may not have been ready to learn until then.
That said, buy the book and use it when your particular family is ready ~ ENJOY! :o)"
"I bought this for my 5yr old and it really does help him to learn to read. I customize the lessons for our use and do it at our own pace.I love seeing the joy in his face when he finally realized he could read some words and sentences. He's also more attentive to words he sees in everyday life and tries to read them too!"
Click here for the original reviews
Related products