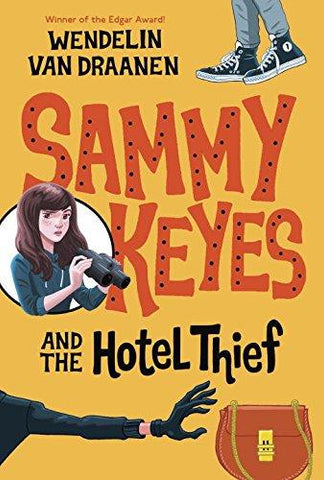 Sammy Keyes and the Hotel Thief by Wendelin Van Draanen (Paperback)
Grams always told her those binoculars would get her into trouble. Now Sammy's witnessed a crime at the Heavenly Hotel-a light fingered thief stealing $4,000 from Madame Nashira, the astrologer with the fire-hazard hair-do. Thing is, while she was watching him, he was watching her, too...

Fast-paced and funny, packed with menacing suspects and clever clues, the Sammy Keyes mysteries keep you guessing to the last riveting page.
*Despite our best efforts to predict the demand for books, the magical spells we use sometimes fail us. So to check if we have the book in-stock before you place your order, contact us at 6702 2452 or drop us an email at myimaginationkingdom@gmail.com
Reading Level: 10-12
Reviews:
"All of the Sammy Keyes books are excellent. This is the spunkiest 13 year I've come across and I've enjoyed reading about her middle school problems, the friendships she makes with all kinds of people, the mysteries that are sometimes quite scary that she takes head on, etc. I've had to read late into the night because I can't put these books down. It is important to read them in order as her character grows and the storyline progresses. Language is smart, action is fast, characters are great."
"4.5 This was So great!! Loved the characters, especially Sammy, who is my favorite character of all time, and Marissa and Grams!! Such a great mystery and the writing style was great. Can't wait to re-read some more!!!!!!!!!!!!!!!!!!!!!!!!!!!"
Click here for the original reviews
Related products