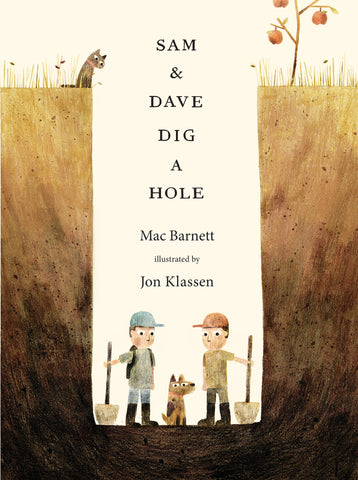 Sam & Dave Dig a Hole by Mac Barnett (Hardback) Winner of 2015 Caldecott Honor
With perfect pacing, the multi-award-winning, New York Times best-selling team of Mac Barnett and Jon Klassen dig down for a deadpan tale full of visual humor.

Sam and Dave are on a mission. A mission to find something spectacular. So they dig a hole. And they keep digging. And they find . . . nothing. Yet the day turns out to be pretty spectacular after all. Attentive readers will be rewarded with a rare treasure in this witty story of looking for the extraordinary — and finding it in a manner you'd never expect.
*Despite our best efforts to predict the demand for books, the magical spells we use sometimes fail us. So to check if we have the book in-stock before you place your order, contact us at 6702 2452 or drop us an email at myimaginationkingdom@gmail.com
Reading Level: 5+
Reviews:
"Such a cute book! The title says it all. Jon Klassen is one of my favorite children's books illustrators today, and he does not disappoint. If you have kiddos I highly recommend reading this to them :)"
"Sam and Dave Dig a Hole

. The uninspired, to-the-point title is the only thing uninspired about this very charming children's book. The humor here is mainly in the visuals, but this is not to say the story itself is lacking; though it's simple, it's highly memorable and just hilarious, and with only a few sentences per page, this is an ideal bedtime read. There's no moral to the story, but so what? Sometimes it's ok to just have a laugh and not a lesson.





Final verdict: A must-read-now probably most suitable for children ages 4-6.

"
Click
here
for the original reviews
Related products