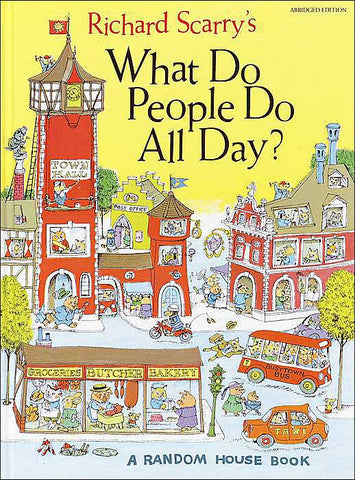 Richard Scarry's What Do People Do All Day? by Richard Scarry (Hardback)
An illustrated panorama of the animals of Busytown at work, describing the occupations and activities of many of her citizens through detailed drawings with labels indicating processes and equipment used as they perform their jobs.
*Despite our best efforts to predict the demand for books, the magical spells we use sometimes fail us. So to check if we have the book in-stock before you place your order, contact us at 6702 2452 or drop us an email at myimaginationkingdom@gmail.com
Reading Level: 5+
Reviews:
"This book was a gateway drug to my son, who now spends half his time poring over (and creating) detailed cross-sections and schematics. And Lowly Worm, too!"
"My youngest (5) was fascinated by the detailed pictures. I felt the book did a good job of showing the value of all the jobs in a community and how they all work together in the economy. It really is able to simplify this complex concept to an accessible level for kids."
Click here for the original reviews
Related products