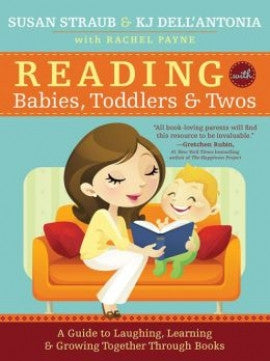 Reading with Babies, Toddlers and Twos by KJ Dell'Antonia and Susan Straub (Paperback)
It's never too early—or too late—to start sharing books with your baby!
Reading is one of the first activities you can enjoy with your child, and Reading with Babies, Toddlers, and Twos gets you started by answering questions such as:
•Which books will a newborn baby enjoy?
•What do you buy after you've read Goodnight Moon?
•Are eBooks and apps appropriate for young children?
•Can I make up a story to tell my child?
•What are the best collections of fairy tales, fables, and other classic stories?
Straub, Dell'Antonia, and Payne use their decades of experience as parents, book reviewers, and children's librarians to bring you the very best in children's books, so you'll never run out of ideas for reading with your baby.
"An accessible and enjoyable guide...with book is a 'go-to' resource."—Traci Lester, executive director, Reach Out and Read of Greater New York
*Despite our best efforts to predict the demand for books, the magical spells we use sometimes fail us. So to check if we have the book in-stock before you place your order, contact us at 6702 2452 or drop us an email at myimaginationkingdom@gmail.com
Reading Level: Parents & Teachers
Reviews:
"There are a few books about reading to babies out there, but this is the most recent, and thus up-to-date. It's also the easiest to read. A great shower gift!"
"Since becoming a grandmother, I have read several recently written books on childcare, reading programs, age appropriate reading suggestions for parents and child. Times have not changed the common sense ways to begin to read to a child; what books to read, and high interest books. I am right on track. This is not to say that I am not learning a few good tips, I certainly am. This book is most helpful. Thank you."
Click here for the original reviews
Related products