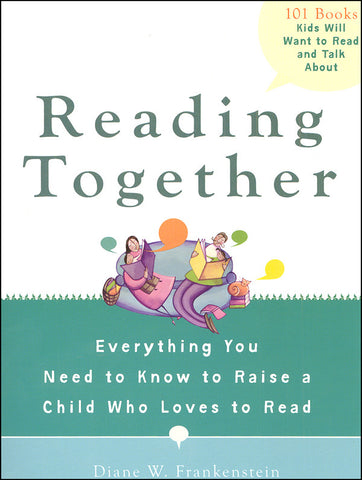 Reading Together: Everything You Need to Know to Raise a Child Who Loves to Read by Diane W. Frankenstein (Paperback)
A dynamic guide to more than 100 books that will get kids talking and reading more.

How do children become good readers? In Reading Together, educational consultant Diane W. Frankenstein shares the secret: guiding children to find an appropriate book and talking with them about the story helps them connect with what they read.

This engaging guide shares advice for parents, teachers, librarians, and caregivers on how to help children find what to read, and then through conversation, how to find meaning and pleasure in their reading. With more than 100 great book recommendations for kids from Pre-K through grade six, as well as related conversation starters, Reading Together offers a winning equation to turn children into lifelong readers. Some of the award-winning books discussed include Betty G. Birney?s World According to Humphrey, Gennifer Choldenko?s Notes from a Liar and Her Dog, and David Shannon?s Bad Case of Stripes.
*Despite our best efforts to predict the demand for books, the magical spells we use sometimes fail us. So to check if we have the book in-stock before you place your order, contact us at 6702 2452 or drop us an email at myimaginationkingdom@gmail.com
Reading Level: For Parents & Teachers
Reviews:
"Diane is the best! Her book is worth its weight in gold -- and then some. It should be required reading in every teacher training class, and current teachers should jump at the opportunity to use it as a resource. As an educational therapist with over 30 years in private practice, and certification in Reading and Learning Disabilities, I have been exposed to many resources, and I'd put this at the top of my list."
"This book is a must for parents and teachers alike. Very easy to use, great content, well written and well organized. On days when I volunteer to read to my son's second grade class, this is my go-to resource. No more waiting in line for the childrens' librarian!"
Related products