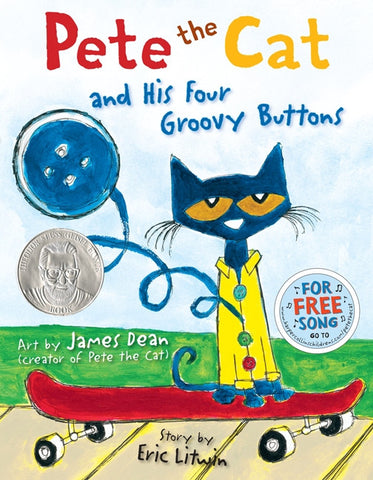 Pete the Cat and His Four Groovy Buttons by Eric Litwin (Hardback) Winner of 2013 Theodore Seuss Geisel Award Honor
Pete the Cat is wearing his favorite shirt—the one with the four totally groovy buttons. But when one falls off, does Pete cry? Goodness, no! He just keeps on singing his song—after all, what could be groovier than three groovy buttons? Count down with Pete in this rocking new story from the creators of the bestselling Pete the Cat books.
*Despite our best efforts to predict the demand for books, the magical spells we use sometimes fail us. So to check if we have the book in-stock before you place your order, contact us at 6702 2452 or drop us an email at myimaginationkingdom@gmail.com
Reading Level: 3+
Reviews:
"I always forget to mark picture books as "read!" I've used this one several times in storytimes, most recently a couple of weeks ago.

It's my favorite Pete the Cat book, other than the original--and sometimes I think I might even like this one better!

In addition to the wonderful refrain, I like that there are a lot of details to notice in the pictures than aren't necessarily mentioned in the text--the color of the buttons, the different settings where Pete goes, etc. I enjoy pointing those out in storytimes.

The other great thing about this series is that it will hold the attention of a pretty wide age range!"

"This is one of my favorite book. The story is so simple with lot of energy and rhyming words. This book simply shows the concept of subtraction in an amazing way. Colors are so bright and pictures are so interesting that could keep children interest at great extent. Children can take active part while reading this book with great interest and energy." 

Click here for the original reviews
Related products