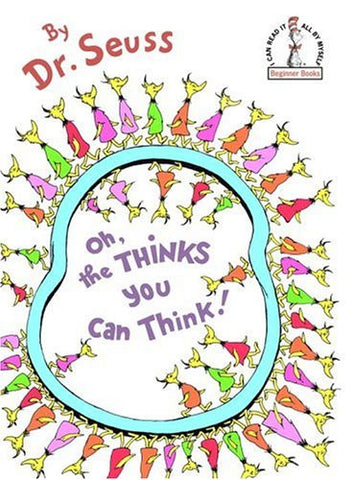 Oh, the Thinks You Can Think! by Dr Seuss (Hardback)
The possibilities are endless in Dr. Seuss's classic Beginner Book! Young readers will delight in Oh, the Thinks You Can Think! which celebrates the imagination and encourages young readers to think . . . about thinking! "Think left and think right and think low and think high. Oh, the Thinks you can think up if only you try."

Originally created by Dr. Seuss, Beginner Books encourage children to read all by themselves, with simple words and illustrations that give clues to their meaning.
*Despite our best efforts to predict the demand for books, the magical spells we use sometimes fail us. So to check if we have the book in-stock before you place your order, contact us at 6702 2452 or drop us an email at myimaginationkingdom@gmail.com
Reading Level: 3+
Reviews:
"Like all Dr. Seuss books, this story is wonderful! Everyone will love this book but beginning readers especially. The sentences are short and easy which appeal to young readers. Also, the text is catchy containing a lot of rhymes and humor. This story encourages young readers to play with their imagination. Not only does it touch into children's imagination but it also encourages children to develop their creative skills. Which is why books like these are important for young readers; they are at an age where they benefit the most from imagination and creative skills. This book also has an overriding theme of exploring and expanding their horizons. It encourages children to discover their surrounding world. The illustrations are also lovely. Dr. Seuss uses made up characters so the illustrations do a great job at showing the reader what exactly these characters look like. All illustrations are bright and lively, which young readers especially enjoy."
"This book, by Dr. Seuss, is about using your imagination! The author uses many different situations in the text to describe some of the things you can think of. There are many exotic looking pictures to match along with the text and put the words into play for a child. Go ahead and get this book to read with your children!

I think it's great that this book was created to try to encourage children to use their imagination! The illustrations in it are very crazy to look at but they definitely catch the reader's attention. There are not many books that directly persuade the young readers to go out there and be creative, but this one has. It was a job well done as well. There is, of course, rhyming in this book because the author is Dr. Seuss. I recommend this book!"
Click here for the original reviews
Related products