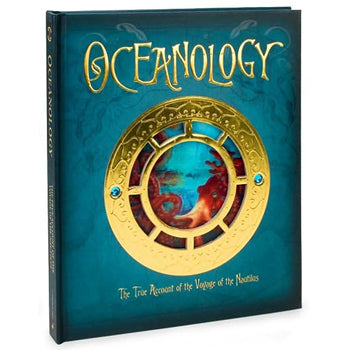 Oceanology: The True Account of the Voyage of the Nautilus by Ferdinand Zoticus De Lesseps (Hardback)
Follow the fascinating journey of Captain Nemo and explore the ocean's wonders, both real and imagined ... or are they?

What if a sixteen-year-old assistant traveled aboard the storied Nautilus, the narwhal-shaped submarine of 20,000 Leagues Under the Sea? And what if he were the sole survivor of the ill-fated voyage and went on to relay his adventures to a certain . . . Jules Verne? Find this brave young man's own account in the lavishly illustrated Oceanology, a tale of an 866 voyage of discovery that investigates diving bells and shipwrecks; coral reefs and ice canyons; sharks, giant octopi, and luminous sea monsters; underwater volcanoes, and even the legendary island of Atlantis.
*Despite our best efforts to predict the demand for books, the magical spells we use sometimes fail us. So to check if we have the book in-stock before you place your order, contact us at 6702 2452 or drop us an email at myimaginationkingdom@gmail.com
Reading Level: 10-12
Reviews:
"This book is purportedly the journal of Zoticus de Lesseps, a sixteen-year-old assistant aboard Captain Nemo's Nautilus during a voyage in 1863, and it's a fascinating look at the wonders of the deep. As well as being beautiful to look at and explore, it is also packed with information. The publisher notes: "Because new advancements have been made in ocean exploration and science since this volume was written, explanatory notes have been added by the publisher throughout this facsimile for the benefit of today's readers." It is one in the "ology" series of books, meaning it's highly interactive, lavishly illustrated, and comes complete with booklets, secret flaps, notes and letters. There is always something new to discover in here, and I can vouch that it will appeal to adults and kids alike!" 
"An excellent series. These books have caused bickering in the family fighting over which copies belong to who because they are so good. The layout of the book is brilliant the notes the images etc are so intriguing for children and teaches them whilst being enjoyable !"
Click here for the original reviews
Related products