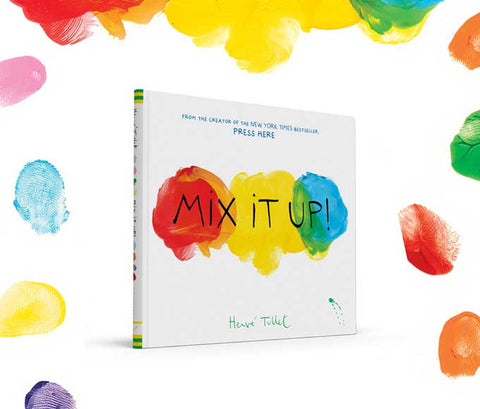 Mix It Up by Herve Tullet (Hardback)
Accept Hervé Tullet's irresistible invitation to mix it up in a dazzling adventure of whimsy and wonder. Follow the artist's simple instructions, and suddenly colors appear, mix, splatter, and vanish in a world powered only by the reader's imagination. Tullet—who joins such greats as Eric Carle and Leo Lionni as a master of his craft—sets readers on an extraordinary interactive journey all within the printed page. Tullet prompts plenty of giggles in addition to a profound understanding of colors, and once again displays his unique genius and vision in a work that is a glorious and richly satisfying companion to Press Here.
*Despite our best efforts to predict the demand for books, the magical spells we use sometimes fail us. So to check if we have the book in-stock before you place your order, contact us at 6702 2452 or drop us an email at myimaginationkingdom@gmail.com
Reading Level: 3+
Reviews:
"A playful, interactive book about colors from the author of Press Here! I can't wait to share this one with kids."
"easily my kids' current favorite book (kids are ages 6, 3.5, and 1.5)...both the middle and the youngest find it hysterical and it occupied their attention for a good 10 minutes (one in the doctor's waiting room and one before bed). i think the success of this one is in the telling of it. it's a cute gimmick and a nice introduction into color-mixing. my children are obsessed with painting and making a mess, so the interactive portion is key (and, quite frankly, i enjoyed that the book requires active reading and listening). if i taught preschool art, i'd be ALLLL over this book."
Click here for the original reviews
Related products