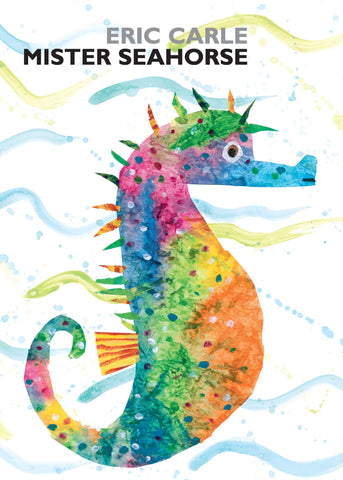 Mister Seahorse by Eric Carle (Board Book)
When Mrs. Seahorse lays her eggs, she does it on Mr. Seahorse's belly! She knows he will take good care of them. While he swims waiting for the eggs to hatch, he meets other underwater fathers caring for their babies. Now Eric Carle's heart-warming New York Times bestseller is finally available in a board book edition, complete with the clear "peek-a-boo" pages that made the original such a hit. Brimming with bright, colorful sea life, this new board book will be irresistable to young children everywhere.
*Despite our best efforts to predict the demand for books, the magical spells we use sometimes fail us. So to check if we have the book in-stock before you place your order, contact us at 6702 2452 or drop us an email at myimaginationkingdom@gmail.com
Reading Level: 3+
Reviews:
"This is such a fun book! I love Eric Carle stuff, anyway, but hadn't tried anything new for awhile. (The Very Hungry Caterpillar and I go WAY back!) This has all the whimsy and color that makes Carle's art so distinct, and some fun surprises for kids like film-y pages with seaweed and such painted on them so it appears that certain fish are hiding behind it until you turn that page. What is especially fun is that the book is about fathers caring for their young (eggs). I didn't realize that the seahorse is just one of several sea creatures that does so. As father seahorse strolls along meeting other fish fathers and offering praise and encouragement, I had fun meeting them too. So cute! And a nice way to show care-giving fathers since so many of care-giving themed books tend to be mother-oriented."
"I thought this was a wonderful story about various sea creatures, demonstrating a few examples in nature where the father takes an active role in either caring for the eggs or the babies (or perhaps both). This is a typically illustrated book for Mr. Carle and our girls enjoyed the drawings and the vellum pages that hide a few surprising fish. Overall, a great story that provides an opportunity to generate a few questions/discussion between parent and child. We've read this book a few times."
Click here for the original reviews
Related products