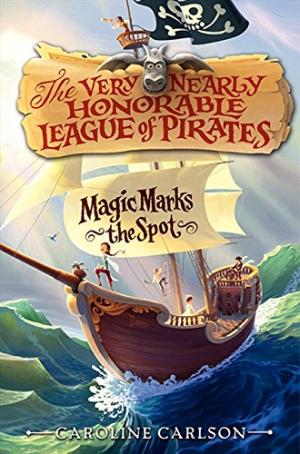 Magic Marks the Spot (The Very Nearly Honorable League of Pirates) by Caroline Carlson (Paperback)
Admiral Westfield sucked in his breath and released it in a tremendous gust. "My dear," he said, "let me be clear: You are a young lady. You will not tell silly tales and you will never be a pirate."

Hilary Westfield has always dreamed of being a pirate. She can tread water for thirty-seven minutes. She can tie a knot faster than a fleet of sailors. She particularly enjoys defying authority, and she already owns a rather pointy sword. There's only one problem: The Very Nearly Honorable League of Pirates refuses to let any girl join their ranks of scourges and scallywags.

Girls belong at Miss Pimm's Finishing School for Delicate Ladies, learning to waltz, faint, and cursty. But Hilary and her dearest friend, the gargoyle, have no use for such frivolous lessons—they are pirates! (Or very nearly.)

To escape from a life of petticoats and politeness, Hilary answers a curious advertisement for a pirate crew and suddenly finds herself swept up in a seafaring adventure that may or may not involve a map without an X, a magical treasure that likely doesn't exist, a rogue governess who insists on propriety, a crew of misfit scallywags, and the most treacherous—and unexpected—villain on the High Seas.

Will Hilary find the treasure in time? Will she become a true pirate after all? And what will become of the gargoyle?
*Despite our best efforts to predict the demand for books, the magical spells we use sometimes fail us. So to check if we have the book in-stock before you place your order, contact us at 6702 2452 or drop us an email at myimaginationkingdom@gmail.com
Reading Level: 10-12
Reviews:
"This is the most unadulterated fun I've had reading in quite some time. I wanna kiss this book square on the mouth."
"So, I'm giving this 5 stars because I read it to my kids, 1 chapter per night, & they stayed engaged the entire time. We had a blast reading this together. Myy 8-year-old son laughed non-stop at the gargoyle & Charlie. My 6-year-old daughter dressed-up as Hilary for their book day at school this year. It has adventure, humor, mystery, and age appropriate swashbuckling. This book was also a ton of fun to read out-loud. I loved being able to swap back & forth between the "High Society voice" & the "Pirate Voice". It's not often I can find books that both of my children love & that I enjoy reading to them. Moving on to the 2nd book..."
Click here for the original reviews
Related products