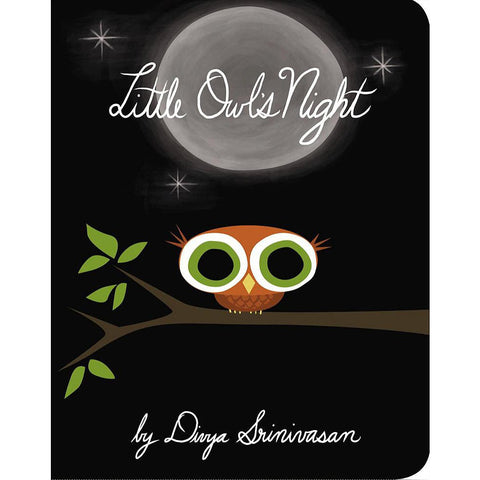 Little Owl's Night by Divya Srinivasan (Board Book)
It's evening in the forest and Little Owl wakes up from his day-long sleep to watch his friends enjoying the night. Hedgehog sniffs for mushrooms, Skunk nibbles at berries, Frog croaks, and Cricket sings. A full moon rises and Little Owl can't understand why anyone would want to miss it. Could the daytime be nearly as wonderful? Mama Owl begins to describe it to him, but as the sun comes up, Little Owl falls fast asleep.

Putting a twist on the bedtime book, Little Owl's Night is sure to comfort any child with a curiosity about the night.
*Despite our best efforts to predict the demand for books, the magical spells we use sometimes fail us. So to check if we have the book in-stock before you place your order, contact us at 6702 2452 or drop us an email at myimaginationkingdom@gmail.com
Reading Level: 3+
Reviews:
"Here's a delightful picture book for all you night owls. Little Owl spends his time watching the nocturnal animals of the field and forest moving about and listening to the chirps of crickets and the croaks of frogs. But as night draws to a close, he requests a story from his mother. She tells him night ends and day begins in beautiful, lyrical language, but he doesn't hear the end of the story because it's sleep time for Little Owl. Young readers will request this title again and again when it's time for their bedtime reading, and their caregivers won't mind repeated readers because of the fluid text that almost has a dreamlike quality about it. The illustrations also have great appeal with wonderfully drawn pines, green grass, and animals with huge eyes. Even the end papers feature interesting details such as a racoon reaching into a squirrel's treasure trove of nuts to steal an acorn or two. This is a great picture book debut from the author/illustrator. "
"I loved everything about this book. The story was simple. The art was simple. Nothing was overdone, and it was very enjoyable. It told of nighttime in the forest, and how different animals act at night.
I kinda wonder if the Bear will notice, after waking up, that the badger was stealing his fishies/food as he slept. Nothing was said about this in the story, but it was shown on 2 separate page-spreads.
Mama Owl's story of how night turns into day is beautiful."
Click here for the original reviews
Related products