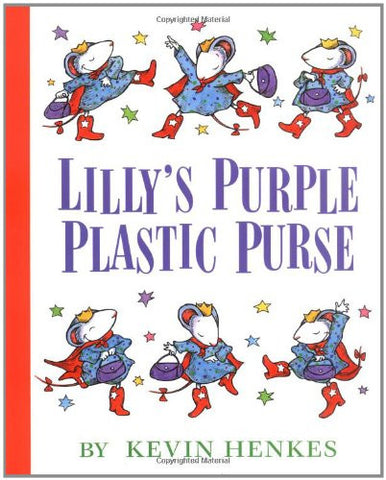 Lilly's Purple Plastic Purse by Kevin Henkes (Hardback)
Lilly loves everything about school, especially her cool teacher, Mr. Slinger. But when Lilly brings her purple plastic purse and its treasures to school and can't wait until sharing time, Mr. Slinger confiscates her prized possessions. Lilly's fury leads to revenge and then to remorse and she sets out to make amends.
Lilly, the star of Chester's Way and Julius, the Baby of the World, is back. And this time she has her name in the title - something she's wanted all along. If you thought Lilly was funny before, you are in for a treat. So hurry up and start reading. Lilly can't wait for you to find out more about her.*Despite our best efforts to predict the demand for books, the magical spells we use sometimes fail us. So to check if we have the book in-stock before you place your order, contact us at 6702 2452 or drop us an email at myimaginationkingdom@gmail.com
Reading Level: 5+
Reviews:
"This is a book that adults will appreciate as much as children. Pay close attention to all that's happening in the illustrations. You can't help but love Lilly, she means well but like any of us she finds herself in trouble. Mr. Slinger, Lilly's teacher is a hero. This is a must read for all kids. Makes a great gift, look for a purple plastic purse and movie star sunglasses to go a long with it! After reading this book you'll find yourself looking for and falling in love with all of Kevin Henkes' books! Wow! That is all I can say. Wow!"
"This is a popular read-aloud book in our elementary school library. Looking at the other reviews one can conclude it would be entertaining and effective from preschool to the corporate world. Rarely does an author capture the emotions of children (and adults) as succinctly as Kevin Henkes does here. His playful illustrations of human-like mice carry the story along and make children want to examine every detail. While entertaining, "Lilly" teaches some valuable lessons about anger and forgiveness. Something our society could use a bit more of."
Click here for the original reviews
Related products