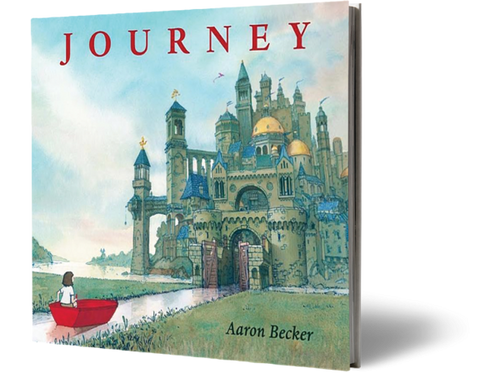 Journey by Aaron Becker (Hardback) Winner of 2014 Caldecott Honor Medal
Follow a girl on an elaborate flight of fancy in a wondrously illustrated, wordless picture book about self-determination — and unexpected friendship.

A lonely girl draws a magic door on her bedroom wall and through it escapes into a world where wonder, adventure, and danger abound. Red marker in hand, she creates a boat, a balloon, and a flying carpet that carry her on a spectacular journey toward an uncertain destiny. When she is captured by a sinister emperor, only an act of tremendous courage and kindness can set her free. Can it also lead her home and to her heart's desire? With supple line, luminous color, and nimble flights of fancy, author-illustrator Aaron Becker launches an ordinary child on an extraordinary journey toward her greatest and most exciting adventure of all.
*Despite our best efforts to predict the demand for books, the magical spells we use sometimes fail us. So to check if we have the book in-stock before you place your order, contact us at 6702 2452 or drop us an email at myimaginationkingdom@gmail.com
Reading Level: 5+
Reviews:
"This is a beautiful illustrated children's book, one of the best books I have read this year. It's also Aaron Becker's first book, and it's also wordless. It of course owes its main idea to Harold and the Purple Crayon, and the idea that a kid with a coloring crayon can change his or her world. But Crockett Johnson keeps it simple and clean, and Becker builds on the idea to suggest that this act adds color and shape and ecstatic invention to a child's, or anyone's world. Basic point--that the imagination matters, that creativity enriches, that it is essential to our world--but it is such a needed reminder in the Common Core world of argumentation and textual exegesis. A simple reminder, but fundamental, timeless. A classic everyone will know at some point, I am quite sure! "
"Picture Book. Certainly not a new concept, but a beautiful execution regardless.

A young girl beats boredom by drawing a journey that spans several spectacular worlds. Harold and the Purple Crown anyone?

A great book to own, the art is really breathtaking. We had fun weaving our own narrative, my boys and me."
Click here for the original reviews
Related products