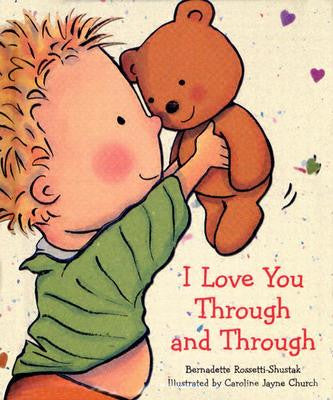 I Love You Through and Through by Bernadette Rossetti-Shustak
A rhyming story of unconditional love and adorable illustrations of a toddler and a teddy bear who declare "I love you through and through!"

I love your hair and eyes,
Your giggles and cries...

A toddler and his teddy bear illustrate a young child's happy side, sad side, silly side, mad side, and more! Babies and toddlers will feel loved all over when they hear this declaration of adoration and affection! This book has sturdy cardstock pages and a padded cover with rounded corners for safe handling by little ones.
*Despite our best efforts to predict the demand for books, the magical spells we use sometimes fail us. So to check if we have the book in-stock before you place your order, contact us at 6702 2452 or drop us an email at myimaginationkingdom@gmail.com 
Reading Level: 1+
Reviews:
"I was shopping for some daycare gift exchanges (including a book exchange) at Toys 'R Us during Christmas. The cute cover and title made me pick it up and read it. By the end I was crying an embarrassing amount - right there in the aisle. So... I did the only thing I could do. I put it in my basket and bought it. You can't cry like that and then put the book back on the shelf. It's like leaving a piece of yourself in Toys 'R Us.

I tried reading it over and over to desensitize myself to it before wrapping it for my youngest son. I was unsuccessful and ran out of time. Of course Christmas morning he wanted me to read it to him immediately. I'm proud to say I made it all the way through with only one full tear escaping. :)

Now I find it helps to read it really loud. LOL. It's harder to cry that way."
"I received this book when I was pregnant with my first child. Both of my children loved this book and I had it memorized from reading it so often to them! The message is perfect and the illustrations are interesting. A "must have" for a child's library!"
Click here for the original reviews
Related products