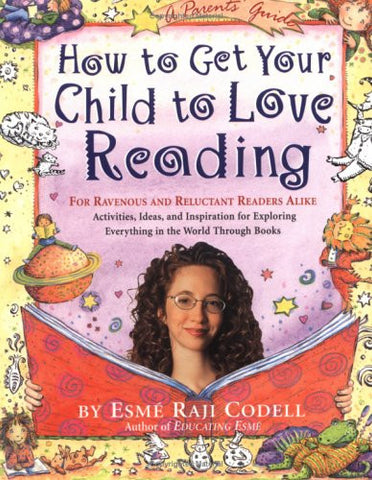 How to Get Your Child to Love Reading by Esme Raji Codell (Paperback)
Are children reading enough? Not according to most parents and teachers, who know that reading aloud with children fosters a lifelong love of books, ensures better standardized test scores, promotes greater success in school, and helps instill the values we most want to pass on.

Esmé Raji Codell--an inspiring children's literature specialist and an energetic teacher--has the solution. She's turned her years of experience with children, parents, librarians, and fellow educators into a great big indispensable volume designed to help parents get their kids excited about reading.

Here are hundreds of easy and inventive ideas, innovative projects, creative activities, and inspiring suggestions that have been shared, tried, and proven with children from birth through eighth grade.

This five-hundred-page volume is brimming with themes for superlative storytimes and book-based birthday parties, ideas for mad-scientist experiments and half-pint cooking adventures, stories for reluctant readers and book groups for boys, step-by-step instructions for book parades, book-related crafts, storytelling festivals, literature-based radio broadcasts, readers' theater, and more. There are book lists galore, with subject-driven reading recommendations for science, math, cooking, nature, adventure, music, weather, gardening, sports, mythology, poetry, history, biography, fiction, and fairy tales. Codell's creative thinking and infectious enthusiasm will empower even the busiest parents and children to include literature in their lives.
*Despite our best efforts to predict the demand for books, the magical spells we use sometimes fail us. So to check if we have the book in-stock before you place your order, contact us at 6702 2452 or drop us an email at myimaginationkingdom@gmail.com
Reading Level: For Parents & Teachers
Reviews:
"What a fun, cleverly written book! Codell's writing is inspiring as well as informative. She provides tons and tons of ideas for reading materials on all manners of topics from social studies to bath time. But she doesn't stop there! She also includes clever ideas to make reading come to life for kids. As an avid lover of resource and child education books, I admit I only own few but this one is a keeper. I would recommend this for parents of infants through early elementary students. If you are looking for reading material to augment your child's life experiences or classroom experiences, I believe this book would be a valuable asset. Happy Reading!"
"I purchased this book when I began my journey to become an elementary school teacher and I have never put it down. I have countless books that I accumulated in course after course throughout this experience, but I assure you that this is the only book that is DOG EARED. I even bought copies for all my friends who were becoming teachers. Every recommended "Potato Pick" has been wonderful as suggested, every author hightlighted has been fantastic, and Esme has also completed categories for any kind of theme you can think of for kids. In my children's literature course I just chose books I found in this book to read. I take it with me to all bookstores, Scholastic book fairs, ordering via Amazon dot com, or even the public library. Teachers need to but this book, pre-service teachers need to buy this book, and parents especially should buy this book to hook your kids to the most wonderful gift in the world...the world of reading and all the fantasy and fulfillment it can bring."
Click here for the original reviews
Related products