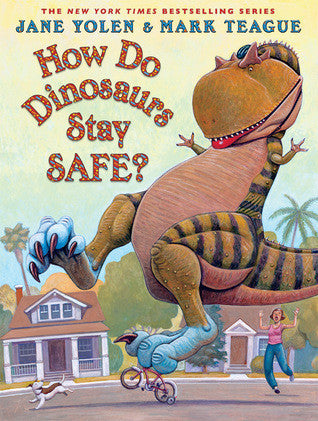 How Do Dinosaurs Stay Safe? by Jane Yolen (Hardback)
From crossing the street with Mama to encountering a stranger, the playful but careful antics of America's favorite dinosaurs will make readers laugh aloud -- and prompt discussion of safety issues.

Few things in childhood are as important as learning how to behave safely, and the topic deserves discussion in every family. Now Jane Yolen and Mark Teague deftly approach this critical subject with warmth, humor, and hilarity.

The wildly funny contrast between Teague's massive dinosaur children and their human-sized surroundings makes this subject especially appealing and funny. Where a book about safety for children might be potentially frightening, the antics of immense dinosaurs jumping on the bed or learning how to dial 9-1-1 on Mama's tiny phone will keep readers laughing from start to finish.

Parents, children, teachers, and other caregivers need a comfortable way to discuss safety, and this book provides just that. And as children learn invaluable rules about safe behavior, they'll beg to read it again and again for the wildly appealing silliness on each page. Here is a book that belongs in every household!
*Despite our best efforts to predict the demand for books, the magical spells we use sometimes fail us. So to check if we have the book in-stock before you place your order, contact us at 6702 2452 or drop us an email at myimaginationkingdom@gmail.com
Reading Level: 3+
Reviews:
"I enjoyed reading this book because of the wonderful illustrations of dinosaurs. The illustrator made them very lifelike and decided to have the dinosaur fill up the majority of each page. This book would be wonderful to use in a classroom when discussing safety with your students. It starts with activities that the dinosaurs do that are not safe. Then, the book transitions into safe actions that the dinosaur performs. The safety aspects the book discusses relate to what children need to know about safety. For example, all children need to know that they should wear a helmet when they ride their bike. I loved reading this book because I could envision myself using it in my future classroom."
"An excellent rhyming book that covers safety from jumping on the bed to wearing a helmet and pool safety. The different types of safety that are addressed are perfectly aimed at this book's intended audience and the dinosaurs modeling good behavior are very effective in getting the message across."
Click here to read the original reviews. 
Related products