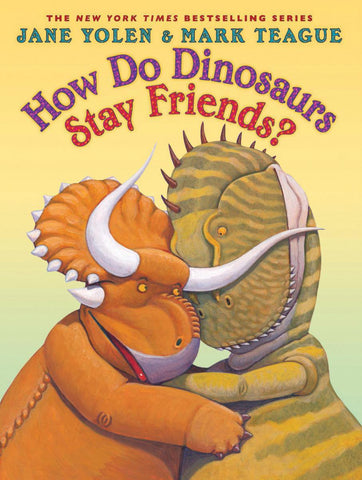 How Do Dinosaurs Stay Friends? by Jane Yolen (Hardback)
From early childhood to life after eighty, the great challenge of any friendship is keeping it healthy and strong. In this funny, engaging book, award-winners Jane Yolen and Mark Teague present humorous, naughty dinosaur antics that any young sibling or friend will instantly recognize -- followed by dinosaur-sized hugs and expressions of affection.
Do children in your home ever fight over a toy? Do good friends at school ever push or call names? And do buddies also know to share, give cookies, and apologize?
Come along and laugh in the tenth full-sized book in this highly acclaimed series -- as little ones make friends and stay friends ... the dinosaur way!
*Despite our best efforts to predict the demand for books, the magical spells we use sometimes fail us. So to check if we have the book in-stock before you place your order, contact us at 6702 2452 or drop us an email at myimaginationkingdom@gmail.com
Reading Level: 3+
Reviews:
"Great rhyming text and story, as usual from Yolen. Dino lovers will devour the illustrations."
"Another great dinosaur picture book from Yolen & Teague, this one focuses on friendship and would work well for storytimes. As with other books in this series, dinosaurs demonstrate what NOT to, exemplifying how ridiculous poor behavior really is. The use of humor and dinosaurs to communicate social niceties is a great way to introduce manners to little ones. Highly recommended."
Click here to read the original reviews. 
Related products