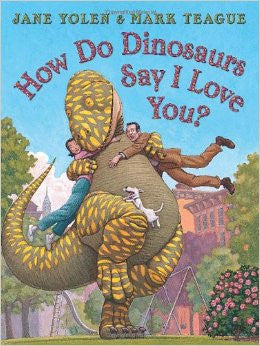 How Do Dinosaurs Say I Love You? by Jane Yolen (Hardback)
With more than 7 million copies sold, everybody's favorite bestselling dinosaurs are back to say: "I love you," in a VERY big way!

Parents and children can never have enough ways to say "I love you"--and now, America's favorite dinosaurs are giving families a funny book, perfect for bedtime, storytime, anytime. Even when little dinosaurs are naughty, it's important to remind them that no matter what they do, they are always loved. In this book, readers will laugh aloud as parents cope with the typical antics of childhood, but in the end, hugs and kisses show your little one how much you care.
*Despite our best efforts to predict the demand for books, the magical spells we use sometimes fail us. So to check if we have the book in-stock before you place your order, contact us at 6702 2452 or drop us an email at myimaginationkingdom@gmail.com
Reading Level: 3+
Reviews:
"Basic plot: Little dinosaurs show their parents how much they love them in many ways.

It's fun being a parent of a little monster, but it can also be frustrating at times. The little ones often do things that are frustrating, but then turn around and do something completely sweet that makes any parent with a heart melt utterly. This book pays tribute to those moments.

The art continues to be quality, with fantastic color and detail. The question/answer format of the series has changed here slightly to descriptions of frustrating behaviors followed by descriptions of sweet behaviors, but it still is very effective. It's quite an enjoyable book to read with the little ones."
"Who does not love dinosaurs? The dinosaurs in this picture book are given human-like qualities and go through the day like any child would. This is a simple read perfect for any prek-2nd grade student. If wanting to read to your child something sweet at night, then this is a great choice for you. In the classroom, I think this would be a perfect book for a valentine's activity. After reading this story, students will be able to appreciate all their parents do for them! The illustrations are darling as well. They go along with the story line and can help any reader picture everyday life. I really enjoyed this picture book! "
Click here to read the original reviews. 
Related products