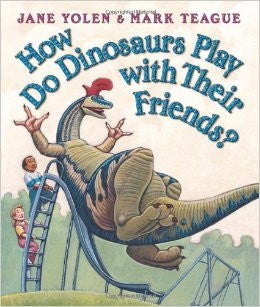 How Do Dinosaurs Play with Their Friends? by Jane Yolen (Board Book)
The bestselling, award-winning team of Yolen and Teague present their fourth original dinosaur board book, a fun guide to friendship and playing nicely with others.

What if a dinosaur's friends come to play?
Does he mope, does he pout if he can't get his way?
Does he hide all his dump trucks, refusing to share?
Does he throw his friends' coloring books up in the air?

Time and time again, children are told to "play nice." This brilliantly illustrated board book is packed with rhymes that will teach children how. Mark Teague's laugh-aloud illustrations, along with Jane Yolen's playful text, will show children that "playing nice" can be easy and fun. Perfect for parents to read aloud with their children, this book is as humorous as it is instructive.
*Despite our best efforts to predict the demand for books, the magical spells we use sometimes fail us. So to check if we have the book in-stock before you place your order, contact us at 6702 2452 or drop us an email at myimaginationkingdom@gmail.com
Reading Level: 3+
Reviews:
"I love the whole "How Do Dinosaurs" series, by Jane Yolen and Mark Teague. The book starts out modelling what NOT to do, as the dinosaurs hog the playground equipment, snatch toys from other kids, etc., while the text asks young readers whether this is how dinosaurs play with their friends. The story then goes on to state, "No, a dinosaur doesn't, he knows how play, he treats everyone in the friendliest way," while the illustrations depict the dino playing nicely.

Other books in the series (How Do Dinosaurs Eat Their Food, How Do Dinosaurs Go to School, etc.) follow a similar pattern. I love that they communicate positive messages about behaviour in a humorous way without getting overly didactic as so many kids' books do (I'm looking at you, Berenstein Bears)."
"Another fun read for the kids. I love the story and pictures that are in this book (and the series). My kids giggle at some of the antics that the dinosaur does in this book. I like how kids aretaught a lesson by the end of it which only takes a few minutes to read."
Click here to read the original review. 
Related products