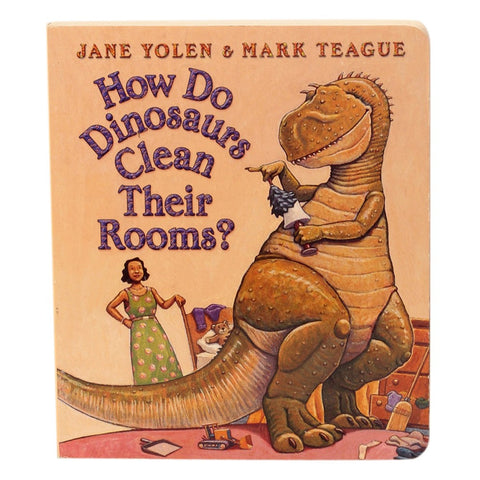 How Do Dinosaurs Clean Their Rooms? by Jane Yolen (Board Book)
The bestselling, award-winning team of Yolen and Teague present their second original dinosaur board book, a playful "how-to" tale about making a mess and then cleaning it up.

Come along for some BIG fun as your favorite dinosaurs learn to pick up and put away their toys. How do dinosaurs clean their rooms? With trash cans and dusters and brooms!
Now Jane Yolen's playful, read-aloud text and Mark Teague's hilarious illustrations show your own little dinosaurs just how fun and easy it can be. Brimming with the same infectious humor as the other HOW DO DINOSAURS tales, this new board book is a perfect companion to the immensely popular picture books and a great baby gift as well.
*Despite our best efforts to predict the demand for books, the magical spells we use sometimes fail us. So to check if we have the book in-stock before you place your order, contact us at 6702 2452 or drop us an email at myimaginationkingdom@gmail.com
Reading Level: 3+
Reviews:
"A great book for preschool kids who may be reluctant to do their chores. It might be effective to read this book with them and then ask your own little dinosaur to clean his or her room. I have nephews who will love this."
"This is the ONLY book my 14-month-old will sit through all the way. He loves the dinosaur illustrations and enjoys flipping the pages when I'm through. He was given this by our pediatrician at his 12-month check-up. I love that they give books to patients to encourage reading. I also look forward to using this when he's a little older to help him understand the cleaning process."
Click here to read the original review. 
Related products