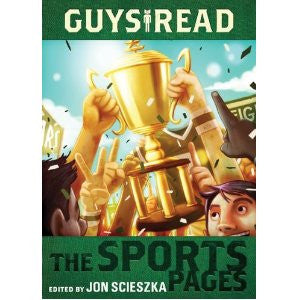 Guys Read #3: The Sports Pages by Jon Scieszka (Paperback)
A collection of sports stories featuring everything from fighting to friendship, set everywhere from the tennis court to the hockey rink. Includes stories by Gordon Korman, Chris Rylander, Dan Gutman, and others.
*Despite our best efforts to predict the demand for books, the magical spells we use sometimes fail us. So to check if we have the book in-stock before you place your order, contact us at 6702 2452 or drop us an email at myimaginationkingdom@gmail.com
Reading Level: 10-12
Reviews:
"Guys Read the Sports Pages are actually written by multiple people. These amazing authors include, Dan Gutman, Tim Green, and Chris Rylander. There are ten short stories about baseball, basketball, NHL Los Angeles Kings hockey team captain Dustin Brown, and more. I really liked the story, HOW I WON THE WORLD SERIES, by Dan Gutman, and how he won the world series for the Red Socks with a grape fruit! That story definitely made me laugh out loud."
"This is a great collection of stories by a great collection of authors for both avid sports fans and also those who don't think the like sports much either. Many of the stories are about bigger ideas like friendship, winning in life and competition. Also the really cool thing about this book is if you find that you like a story in particular, you can go on to look up that author for his or her other works."
Click here for the original reviews
Related products