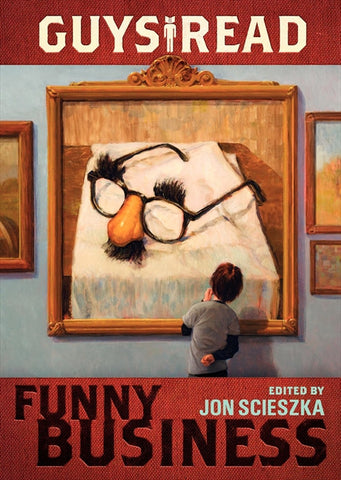 Guys Read #1: Funny Business by Jon Scieszka (Paperback)
It's here: Volume One of the official Guys Read Library. Jon Scieszka's Guys Read initiative was founded on a simple premise: that young guys enjoy reading most when they have reading they can enjoy. And out of this comes a series that aims to give them just that. Ten books, arranged by theme, featuring the best of the best where writing for kids is concerned. Each book is a collection of original short stories, but these aren't your typical anthologies—each book is edgy, inventive, visual, and one-of-a-kind, featuring a different theme for guys to get excited about.
Funny Business is based around the theme of—what else?—humor, and if you're familiar with Jon and Guys Read, you already know what you're in store for: ten hilarious stories from some of the funniest writers around. Before you're through, you'll meet a teenage mummy; a kid desperate to take a dip in the world's largest pool of chocolate milk; a homicidal turkey; parents who hand over their son's room to a biker; the only kid in his middle school who hasn't turned into a vampire, wizard, or superhero; and more. And the contributor list includes bestselling authors, award winners, and fresh new talent alike: Mac Barnett, Eoin Colfer, Christopher Paul Curtis, Kate DiCamillo (writing with Jon Scieszka), Paul Feig, Jack Gantos, Jeff Kinney, David Lubar, Adam Rex, and David Yoo.
Guys Read is all about turning young readers into lifelong ones—and with this book, and each subsequent installment in the series, we aim to leave no guy unturned.
*Despite our best efforts to predict the demand for books, the magical spells we use sometimes fail us. So to check if we have the book in-stock before you place your order, contact us at 6702 2452 or drop us an email at myimaginationkingdom@gmail.com
Reading Level: 10-12
Reviews:
"This book consists of many short stories, so I guess I won't be able to explain what the characters are doing, but what characteristics the book contains. This book is very funny, but gets down to business. The stories are about many kids and how sometimes their life is difficult and how sometimes they get in trouble. The stories are funny and they will always make you want to read more.

I would recommend this book to someone who likes funny stories. The stories are all very good and I would definitely read this again."
"Guys Read Funny Business is an amazing book of short stories. Every short story is by a different famous author of comedy and they are all edited and put together by Jon Scieszka. Each short story is hilarious and amazing, and some have plot twists or action or weirdness and many have all three. Every short story will have you laughing out loud, and each is extremely fun. This book is full of laughter and fun, and is incredibly hard to put down. Put together by the best authors of this genre this book is amazing."
Click here for the original reviews
Related products