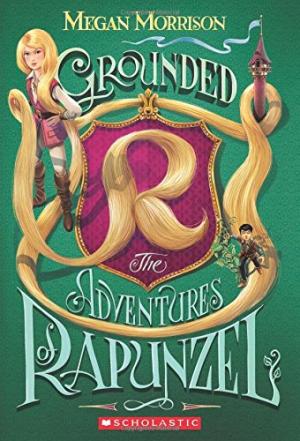 Grounded: The Adventures of Rapunzel by Megan Morrison (Paperback)
In all of Tyme, from the Redlands to the Grey, no one is as lucky as Rapunzel. She lives in a magic tower that obeys her every wish; she reads wonderful books starring herself as the heroine; her hair is the longest, most glorious thing in the world. And she knows this because Witch tells her so---her beloved Witch, who protects her from evil princes, the dangerous ground under the tower, even unhappy thoughts. Rapunzel can't imagine any other life.

Then a thief named Jack climbs into her room to steal one of her enchanted roses. He's the first person Rapunzel's ever met who isn't completely charmed by her (well, the first person she's met at all, really), and he is infuriating-- especially when he hints that Witch isn't telling her the whole truth. Driven by anger at Jack and her own nameless fears, Rapunzel descends to the ground for the first time, and finds a world filled with more peril than Witch promised ... and more beauty, wonder, and adventure than she could have dreamed.
*Despite our best efforts to predict the demand for books, the magical spells we use sometimes fail us. So to check if we have the book in-stock before you place your order, contact us at 6702 2452 or drop us an email at myimaginationkingdom@gmail.com
Reading Level: 10-12
Reviews:
"I love fairy tale retellings, but there are a lot of them out there, so I do not publish them lightly. This one: TOTALLY WORTH IT. 

The best way I can describe it is Rapunzel meets Harry Potter (another thing I do not do lightly: make comparisons to HP), because the fairy tale unfolds in a world as rich as the Wizarding world in past history, present action, & delightful details; and because it encompasses the same range of tones that HP has -- truly a book that made me laugh, cry, gasp, and long for the next one. It's a debut. Please support it. You won't regret it. Thanks."
"The author has created a rich, captivating world in GROUNDED. Her main character is drawn with depth and complexity. It was satisfying to see that while Rapunzel changed and grew as a person during her adventures, some of her core qualities were established early on and consistently displayed throughout.

Love is a central theme in the book, but it is never portrayed as easy or simple. Looking forward to the next installment!"
Click here for the original reviews
Related products