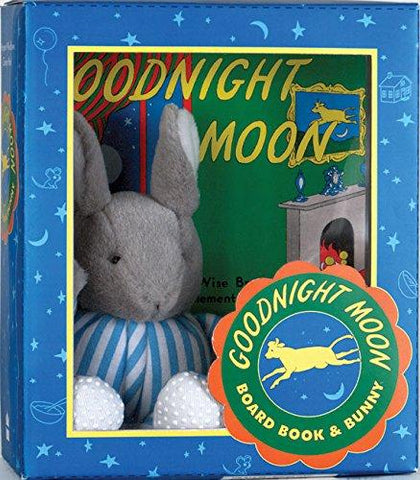 Goodnight Moon with Plush Toy by Margaret Wise Brown (Board Book)
In a great green room, tucked away in bed, is a little bunny. "Goodnight room, goodnight moon." And to all the familiar things in the softly lit room--to the picture of the three little bears sitting in chairs, to the clocks and his socks, to the mittens and the kittens, to everything one by one--he says goodnight.
In this classic of modern children's literature, beloved by generations of readers and listeners, the quiet poetry of the words and the gentle, lulling illustrations combine to make a perfect book for the end of the day.
*Despite our best efforts to predict the demand for books, the magical spells we use sometimes fail us. So to check if we have the book in-stock before you place your order, contact us at 6702 2452 or drop us an email at myimaginationkingdom@gmail.com
Reading Level: 1+
Review: 
"Until I started reading to my older son, I didn't really understand what was this book's unique hold on people was. However, from my first reading to him, I did! There must be something magical about this book and the way children love it. It's very comforting to them, with the easy to memorize lines and the gentle arrival in the great green room of nighttime. However, it's also full of little details for them to notice and delight in--the hidden mouse, the dollhouse with lights on, the pictures on the wall. It's the perfect book to start kids "reading" themselves---leave out the crucial word in a line and wait for them to say it---"a bowlful of...." "MUSH!", they scream with delight! And they all love the "Goodnight Nobody" page best---I think it really gets kids thinking in a philosophical way---How can you say Goodnight to Nobody? This book is a true, true gem and belongs in every library."

"I got this book (in the board version) for a shower gift for my now 2-year-old daughter. I didn't remember reading this book as a child and at first it seemed a little odd -- the pictures weren't tremendously appealing and the rhyme scheme seemed strange. I have, however, been converted. After reading the book several times to my newborn daughter, I noticed how soothing it was to her. She seemed to be able to see the pictures and, as she got older, would reach out to touch elements in each. We read it every night for months, because it seemed to set a good tone for bedtime. After learning a little more about how children think, I began to understand what made it so appealing -- the ritual of saying good night to familiar objects helped reassure her when she had to say good night to her mom and dad, which can be scary for tiny kids.
Now, of course, she's a big girl and says it's a "baby book". However, it's still by her bed and I've overheard her "reading" it to herself or to her baby brother many times. It's an excellent choice for a baby you love."
Click here to read the original reviews
Related products