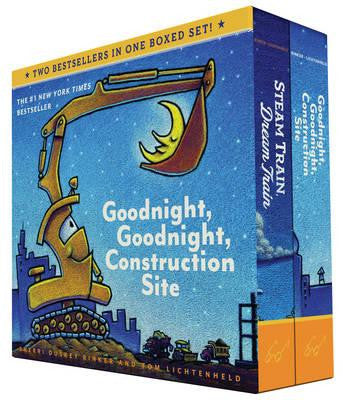 Goodnight, Goodnight, Construction Site and Steam Train, Dream Train Set by Tom Lichtenheld and Sherri Duskey Rinker (Boxed Set)
Two New York Times Best Sellers finally available as board books!

Even the roughest, toughest readers will want to turn off their engines and snuggle up with these sweet and soothing stories. Gentle rhyming text and vibrant art make these books surefire bedtime favorites for train- and construction-crazy kids everywhere.
*Despite our best efforts to predict the demand for books, the magical spells we use sometimes fail us. So to check if we have the book in-stock before you place your order, contact us at 6702 2452 or drop us an email at myimaginationkingdom@gmail.com
Reading Level: 5+
Reviews:
"Booklist called Goodnight, Goodnight Construction Site a "standout picture book," and I would definitely agree. I, too, found the pictures cute, detailed, and interesting to look at. Personifying the various construction equipment would get children's attention, and the easy rhymes create a nice rhythm that feels like being rocked to sleep. My 3 and 5 year old nephews would love this book!"
"After so many boring and lackluster children's books about trains, it was so refreshing to come across one so engaging with such beautiful illustrations! We all loved this book! Even my 5 yr old who claims to have no interest in trains anymore was riveted by the story and what would be loaded onto the dream train next. Even though a young reader could read this, it's much more fun to have a parent read this smoothly. I know that some people find rhyming tiresome and overdone, but this book does it so well, it was effortless to read it. I felt the words were flowing along like a train does. It was just wonderful all around. We really enjoyed this book."
Related products