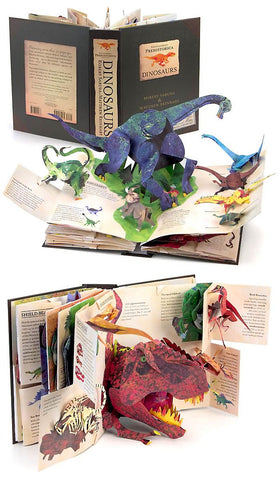 Encyclopedia Prehistorica Dinosaurs: The Definitive Pop-Up by Robert Sabuda and Matthew Reinhart (Hardback)
From renowned pop-up masters Robert Sabuda and Matthew Reinhart comes an awe-inspiring tribute to the world's most beloved extinct animals and their 180-million-year reign on our planet.

Open this book and a massive T. REX springs out, flashing a startling jawful of jagged teeth. Turn the next spread and a ravishing raptor unfurls and appears to fly off the edge of the page. Inside the amazing ENCYCLOPEDIA PREHISTORICA: DINOSAURS are "shield bearers" in full-body armor, creatures with frilly headgear, and weighty, long-necked giants. There are even amusing tidbits on the history of paleontology itself — like a pop-up version of a Victorian New Year's dinner in the belly of a dinosaur model, or a pair of scientists locked in a literal tug-of-war over bones.

Full of fascinating facts and lighthearted good humor, this breathtaking book includes fascinating, up-to-the-minute information about popular dinosaurs as well as many lesser-known varieties. With each of six spreads featuring one spectacular, large pop-up as well as booklets of smaller pop-ups and text, ENCYCLOPEDIA PREHISTORICA: DINOSAURS is a magnificent display of paper engineering and creativity — an astonishing book that will be read, admired, and treasured forever.
*Despite our best efforts to predict the demand for books, the magical spells we use sometimes fail us. So to check if we have the book in-stock before you place your order, contact us at 6702 2452 or drop us an email at myimaginationkingdom@gmail.com
Reading Level: 10-12
Reviews:
"This pop-up book is absolutely stunning! I bought it for my 6 year old nephew and he absolutely flipped over it. Not only are there huge intricately designed pop-ups on each page, there are also 3 to 4 separate pop-ups under informative flaps on each page as well. This book is the best I have ever seen. I almost kept it for myself!" 
"While the text in this is very informative and perhaps a bit too much like a real encyclopedia... well heck, this is a great reference book on dinosaurs in a fabulous package. Sabuda (if you know his work) is a master, and has really captured the fun, the fear, and the feeling of all the really great dinosaurs! Great colors, amazing paper-fold engineering, and its similar in design to the alice in wonderland/wizard of oz. For those of you who dont know these books (and you should get them as well), the pages are designed to have a large center display, with several booklet fold outs on each page. Inside these booklets are miniture foldouts. Really, this allows for more popups per page, and some great space saving."
Click here for the original reviews
Related products