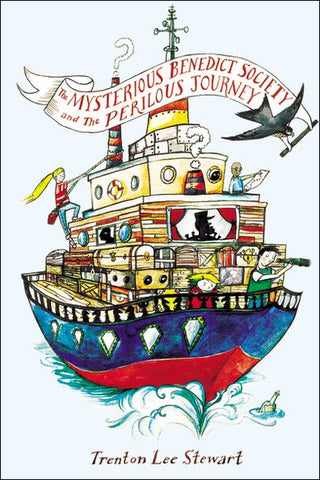 The Mysterious Benedict Society and the Perilous Journey by Trenton Lee Stewart (Paperback) Book 2
The Mysterious Benedict Society is back with a new mission, significantly closer to home. After reuniting for a celebratory scavenger hunt, Reynie, Kate, Sticky, and Constance are forced to go on an unexpected search--a search to find Mr. Benedict. It seems that while he was preparing the kids' adventure, he stepped right into a trap orchestrated by his evil twin Mr. Curtain. 

With only one week to find a captured Mr. Benedict, the gifted foursome faces their greatest challenge of all--a challenge that will reinforce the reasons they were brought together in the first place and will require them to fight for the very namesake that united them.
*Despite our best efforts to predict the demand for books, the magical spells we use sometimes fail us. So to check if we have the book in-stock before you place your order, contact us at 6702 2452 or drop us an email at myimaginationkingdom@gmail.com
Reading Level: 10-12
Reviews:
This book kept me up reading all night in suspense! A great book for ages 10-13.I recommend this book for young readers who like adventure and suspense. 
My son who is 11 loved this book - he thought the characters were interesting and the story line was intriguing. He decided to continue reading the series. I highly recommend it.
Click here for the original reviews