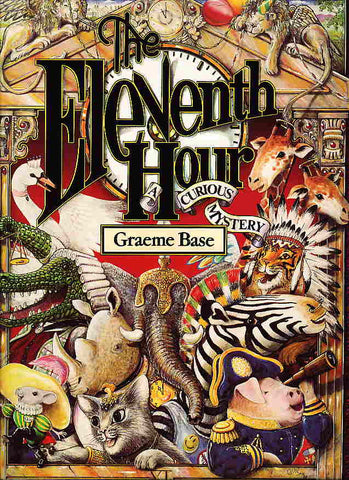 The Eleventh Hour: A Curious Mystery by Graeme Base (Hardback)
When Horace the elephant turns eleven, he celebrates in style by inviting his exotic friends to a splendid costume party. But a mystery is afoot, for in the midst of the games, music, and revelry, someone has eaten the birthday feast. The rhyming text and lavish, detailed illustrations each provide clues, and it's up to the reader to piece them together and decide whodunit! "The fun of poring over the pictures is matched by the enjoyment derived from the textwitty, ingenious verses.
*Despite our best efforts to predict the demand for books, the magical spells we use sometimes fail us. So to check if we have the book in-stock before you place your order, contact us at 6702 2452 or drop us an email at myimaginationkingdom@gmail.com
Reading Level: 7+
Reviews:
I received this book as a child and enjoyed it for the detailed illustrations. When I got older I got into the speculation and mystery of the book. When I got even older I was able to use the clues to actually solve the mystery and break the seal. This is a book you can enjoy for a lifetime!! 
This book is so great!!! It's a little difficult for younger children to read for themselves, but reading together with a parent or older sibling is perfect because it gives them someone to work out all the clues with. I read this when I was about 8 or 9 and had a great time trying to figure everything out, but ended up opening the sealed part in the back before I could figure it out for myself; I was just too anxious to know the culprit!