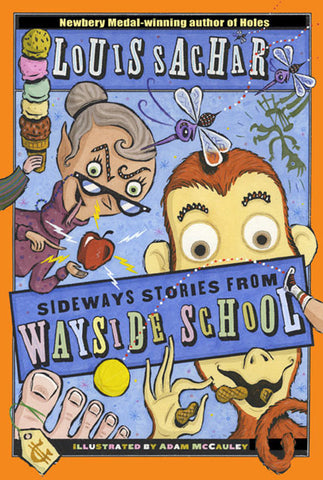 Sideways Stories from Wayside School by Louis Sachar (Paperback)
There'd been a terrible mistake. Wayside School was supposed to be built with thirty classrooms one on top of the other...thirty stories tall! (The builder said he was very sorry.)
That may be why all kinds of funny things happen at Wayside SChool...especially on the thirteenth floor. You'll meet Mrs. Gorf, the meanest teacher of all, terrible Todd, who always gets sent home early, and John who can read only upside down--along with all the other kids in the crazy mix-up school that came out sideways. But you'll never guess the truth about Sammy, the new kid...or what's in store for Wayside School on Halloween!
There was a terrible mistake-Wayside School was built with one classroom on top of another, thirty stories high! (The builder said he was sorry.) Maybe that's why all kinds of funny things happened at Wayside-especially on the thirteenth floor.
*Despite our best efforts to predict the demand for books, the magical spells we use sometimes fail us. So to check if we have the book in-stock before you place your order, contact us at 6702 2452 or drop us an email at myimaginationkingdom@gmail.com
Reading Level: 10-12
Reviews:
"This book was first read to me in the first grade. I am now in 8th, and have read it at least a million times. It is a hillarious book that can help kids see how everyone is different. Besides that, it's just so darn funny. I have read many books by Louis Sachar, and in my opinion he is the best author ever."
"My daughter is in second grade and she was having a hard time with reading. I bought this book because I remember loving the hilarious stories from Wayside School and I hoped that this book would spark my daughter's enthusiasm for reading. Well, one month later she can read the book straight through; chapter by chapter, word for word, and she understands what she is reading. I am so happy with this book and I recommend it for any child who has not found their love of reading yet."
Click here for the original reviews