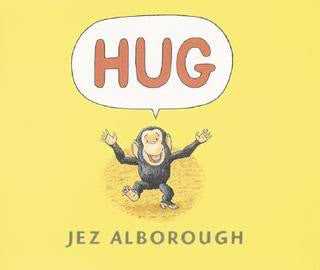 Hug by Jez Alborough (Board Book)
Bobo needs a hug. But his friends don't seem to understand. "Hug," he implores, time and again. Time and again his puzzled pals—from the smallest chameleon to the tallest giraffe—shrug and cuddle with their jungle mothers. As the lonely chimp's plea escalates, his friends grow concerned. Can the elephants lead Bobo to his heart's desire? Jez Alborough, the acclaimed author-illustrator of WHERE'S MY TEDDY?, IT'S THE BEAR!, and MY FRIEND BEAR transforms a total of three words—and some of the most tenderly expressive animals ever created—into an endearing tribute to love and belonging.
*Despite our best efforts to predict the demand for books, the magical spells we use sometimes fail us. So to check if we have the book in-stock before you place your order, contact us at 6702 2452 or drop us an email at myimaginationkingdom@gmail.com
Reading Level: 1+
Reviews:
This is a fantastic picture book. First, in its simplicity of language, for there are only three words in this story. But that doesn't mean that it is less than any other picture book. Quite the contrary, the incredibly expressive characters, especially our main character, Bobo, are illustrated with complete heart and soul. Bobo's quest for a hug is truly heartbreaking at times, yet the final hug is the epitome of happiness and comfort. Children will have a great time identifying all the animals and watching a friendship develop between Bobo and the elephants. If you hug your own kid everytime someone in the story hugs, you will have a great time, too!! 
I bought the book for my 1 year-old nephew, but his four-year brother loves it even more as it only has three words so he can read it to his baby brother. The illustrations are beautifully done. Love all the books by this author.

Click here for the original reviews