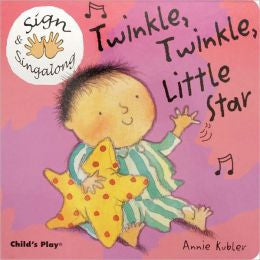 Twinkle, Twinkle, Little Star Sign & Singalong by Annie Kubler (Board Book)
Favorite nursery rhymes and songs with simple and clear signing instructions. Even proficient speakers will long enjoy signing to a favorite song or rhyme.
*Despite our best efforts to predict the demand for books, the magical spells we use sometimes fail us. So to check if we have the book in-stock before you place your order, contact us at 6702 2452 or drop us an email at myimaginationkingdom@gmail.com
Reading Level: 1+
Reviews:
"Thanks to my obsession with Sue Thomas F.B. Eye I have wanted to learn some basic signs...so I ordered this series. I really like the simple illustrations and clear written instructions of the sings. Good for me a beginner and good for babies!"
"My youngest child's favorite book! At Two and a half, he can read and sign the book with me."
Click here for the original reviews
Related products