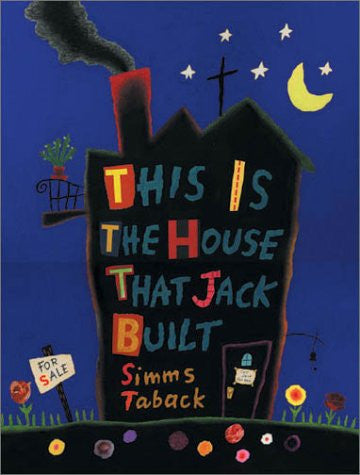 This Is the House That Jack Built by Simms Taback (Paperback)
What happened in the house that Jack built? It all started with the cheese that lay in the house that Jack built. And then came the rat that ate the cheese and the cat who killed the rat. Caldecott Medal winning author and illustrator Simms Taback brings his distinctive humor and creativity to the beloved story of Jack and the house that he built. 
*Despite our best efforts to predict the demand for books, the magical spells we use sometimes fail us. So to check if we have the book in-stock before you place your order, contact us at 6702 2452 or drop us an email at myimaginationkingdom@gmail.com
Reading Level: 5+
Reviews:
"A colorful, busy, fun illustrated retelling of a classic tale. Each page bursts with so many details it would be difficult to list them all here, although I'll try. For example, on the cheese "that lay in the house that Jack built" page, ten cheeses are listed with the level of "smell" they give off, and on the "cat that ate the rat" page, many different types of felines are shown with a description of their personalities--and those are just the start of what is on each page. How does this tie in with the story? I'm not sure, but it doesn't really matter--it's so much fun finding all the details as well as hearing the repeating chant of the story over again makes for a fine time reading. Very fun and should keep a little one busy. I highly recommend this book."
"This is one of my favorites from my childhood. Bought it for my kids, my daughter said she could look at it all day! I love all of his books! So many little extra's in the illustrations!!"

Click here for the original reviews
Related products