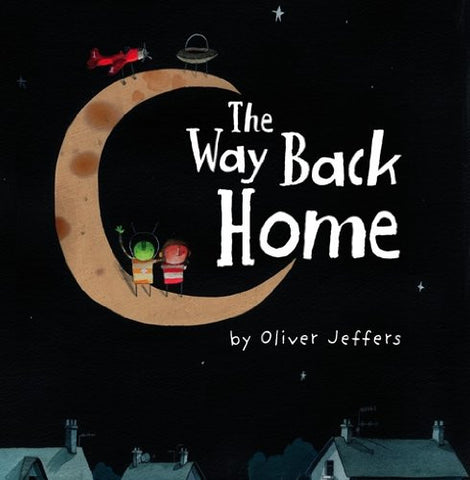 The Way Back Home by Oliver Jeffers (Hardback)
From the illustrator of the #1 smash hit The Day the Crayons Quit comes an imaginative tale of friendship in a world where what makes us different isn't nearly as important as what makes us the same.

When a boy discovers a single-propeller airplane in his closet, he does what any young adventurer would do: He flies it into outer space! Millions of miles from Earth, the plane begins to sputter and quake, its fuel tank on empty. The boy executes a daring landing on the moon . . . but there's no telling what kind of slimy, slithering, tentacled, fangtoothed monsters lurk in the darkness! (Plus, it's dark and lonely out there.) Coincidentally, engine trouble has stranded a young Martian on the other side of the moon, and he's just as frightened and alone. Martian, Earthling—it's all the same when you're in need of a friend.
*Despite our best efforts to predict the demand for books, the magical spells we use sometimes fail us. So to check if we have the book in-stock before you place your order, contact us at 6702 2452 or drop us an email at myimaginationkingdom@gmail.com
Reading Level: 3+
Reviews:
"'A book my 5 yr old as well as my twin 3 yr olds loved. A solid reading level 1 book, this cute story keeps all ages engaged with the bright colorful pictures and cute story. A fun space theme with a little twist at the end. My 5 yr old was tickled pink when he guessed the ending. A great addition to any children's library."
"The Way Back Home is a book about friendship and sharing with those in need. In the book, a boy flies his airplane to the moon but runs out of gas. There he finds a martian boy whose spaceship has broken down. The two children work out a plan that will help both of them get back home. The book is beautifully illustrated, humorous, and shows that going the extra mile and being selfless in a friendship will leave everyone happier and safe at home."
Click here for the original reviews
Related products