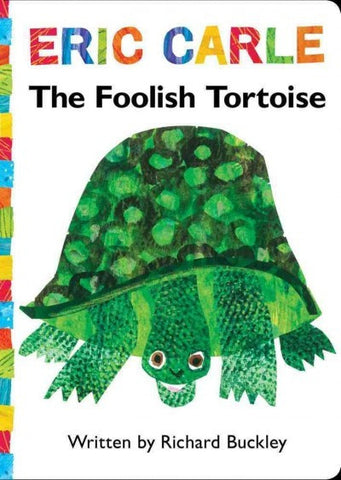 The Foolish Tortoise by Eric Carle and Richard Buckley (Board Book)
The Foolish Tortoise sheds his shell after deciding that he needs to move through the world more quickly. But, after a few scary encounters, he rediscovers the value of going slow and safe.
*Despite our best efforts to predict the demand for books, the magical spells we use sometimes fail us. So to check if we have the book in-stock before you place your order, contact us at 6702 2452 or drop us an email at myimaginationkingdom@gmail.com
Reading Level: 4+
Reviews:
"This is probably one of my favorite books. It is about a tortoise that wants to be faster so he removes his shells and sets out for the day. Not having his shell made him a little faster but it was much scarier being without it. This story has a nice message and the illustrations by Eric Carle are fantastic. The flow of the story is great because it rhymes and children love to hear it read aloud."
"A story about a tortoise who wants to be more than who he is, but realizes he can be no one else but himself. A cute story to read to kids when discussing the importance of being yourself and respecting others. It's also written in a rhyming scheme, so it will be somewhat easy for beginning readers. A good collection for the classroom library."
Click here for the original reviews
Related products