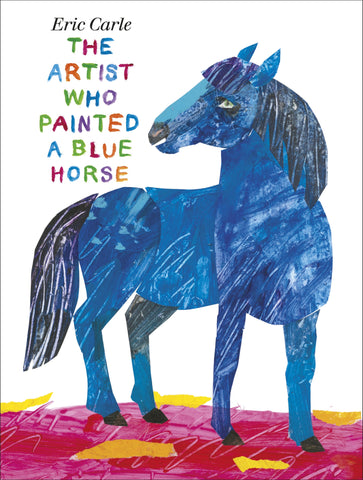 The Artist Who Painted a Blue Horse by Eric Carle (Hardback)
From the creator of The Very Hungry Caterpillar comes a brilliant new Eric Carle board book for the artist in us all.

Every child has an artist inside them, and this vibrant picture book from Eric Carle will help let it out. The artist in this book paints the world as he sees it, just like a child. There's a red crocodile, an orange elephant, a purple fox and a polka-dotted donkey. More than anything, there's imagination. Filled with some of the most magnificently colorful animals of Eric Carle's career, this new board book edition is a tribute to the creative life and celebrates the power of art.
*Despite our best efforts to predict the demand for books, the magical spells we use sometimes fail us. So to check if we have the book in-stock before you place your order, contact us at 6702 2452 or drop us an email at myimaginationkingdom@gmail.com
Reading Level: 3+
Reviews:
"First off, my son was so EXCITED when he saw the cover this book! He said: "Oh, oh, oh! I know this author! He writes the story and is the illustrator for all of the books I like!" I love that we both have had the opportunity to grow up with Eric Carle's works, let's hope he passes the books on to the next generation.

Secondly, this is a bright, fun, and creative story about an artist painting uniquely colored animals. The donkey was our favorite.Great book for young children."
"With simple text and his trademark painted tissue paper collage, Eric Carle celebrates the artist inside each of us while paying tribute to artist Franz Marc whose nontraditional paintings such as Blue Horse I, painted in 1911, were controversial at the time because of their use of unusual colors. In this picture book a young artist uses his imagination to paint a blue horse, a red crocodile, a yellow cow, a green lion, and even a donkey with a rainbow of polka dots across its side. Back matter includes information on Franz Marc and a note about the author/illustrator's early years in Germany when the Nazi regime considered abstract art to be degenerate. The colors pulse vividly on these pages, possibly inspiring a future generation of artists or other creative individuals."
Click here for the original reviews
Related products