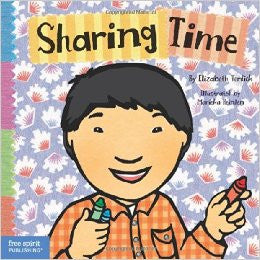 Best Behaviour Series: Sharing Time by Elizabeth Verdick (Board Book)
Sometimes it's fun to share, and sometimes it's hard. This book offers toddlers simple choices (take turns, use the toy together, wait for another time) to make sharing easier, and shows them where to turn for help when sharing is difficult. Little ones learn that sharing can mean double the fun—and sharing a while can make someone smile! Includes tips for parents and caregivers.
*Despite our best efforts to predict the demand for books, the magical spells we use sometimes fail us. So to check if we have the book in-stock before you place your order, contact us at 6702 2452 or drop us an email at myimaginationkingdom@gmail.com
Reading Level: 2+
Reviews:
"Sharing Time is just the ticket if you have a toddler who refuses to take turns or relinquish a possession without a tantrum. As the book says, some things are fun to share -- like smiles and hugs. But when it comes to favorite things, the fear of having it broken or taken away forever is quite real.

I purchased two copies of Sharing Time for cousins who frequently play with each other or in a group. This book is a wonderful tool for parents to avoid the tantrums before they start! The lessons here are valuable, and are presented in a clear and cheerful way with cute illustrations.

I highly recommend Sharing Time"
"got this book hoping it would help my 3year old wuth issues he was having at Daycare. I was about to pull out my hair, thinking he was going to be labled as a brat. Well I bought this book and others in the collection and it helped. I read this book and Hands Are Not For Hitting ever night for 2 weeks and now he is having "Good Days" at daycare now. I still read them to him a few nights a week, plus he really likes them. So if your having probs with your child try these books."
Click here for the original reviews
Related products