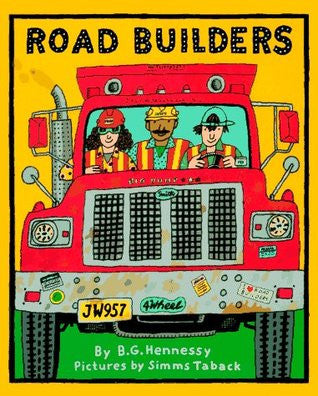 Road Builders by B G Hennessy (Paperback)
Road Builders, is the perfect book for any child who can't get enough of trucks or construction. With Caldecott Medal-winner Simms Taback's bright and engaging illustrations and a fun and straightforward text by B. G. Hennessy, this picture book will satisfy even the most curious little minds.
*Despite our best efforts to predict the demand for books, the magical spells we use sometimes fail us. So to check if we have the book in-stock before you place your order, contact us at 6702 2452 or drop us an email at myimaginationkingdom@gmail.com
Reading Level: 3+
Reviews:
"Road Builders by B.G. Hennessy and Simms Taback is a picture book for young children that discusses the step-by-step process of building roads. The book explains in terms that are easy for young children to understand the different types of trucks and machinery that are used for this job, the roles of the many people involved, and the steps that they follow.

By reading this book, children will become intrigued by the descriptions of the vast amount of equipment used in road building, and they will be very likely to begin questioning more aspects of this book's themes, which include transportation and the occupations that are involved with it. For this reason, this book is a great one for young students to read, especially when discussing the topic of transportation and how it affects our daily lives. I recommend this book for any child who is enjoys reading and learning about different methods of transportation, as well as those who are discussing these types of subjects in class. "
"I really enjoyed this book. Though it is a simple read, it is a good introduction book as well. It gives steps to how a road is built. It is great to learn how to write step by step stories. This book also answers curious questions about things we use on a daily basis. It is good to introduce how to write."
Click here for the original reviews 
Related products