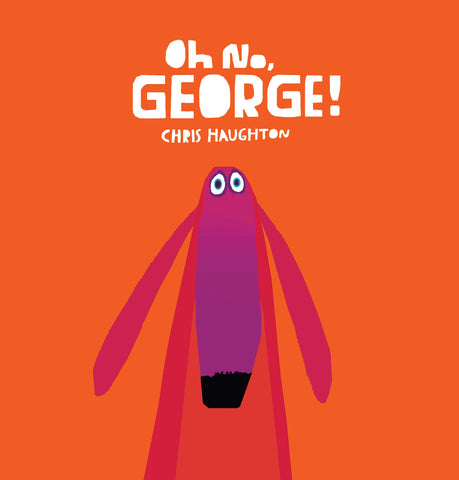 Oh No, George! by Chris Haughton (Hardback)
Bold, hilarious artwork captures the innocent charm of affable George, a dog who is trying to be good — with disastrous results.

George is a dog with all the best intentions. And his owner, Harry, has all the best hopes that George will be a well-behaved dog when he leaves him alone for the day. But when George spies a delicious cake sitting on the kitchen table, his resolve starts to waver. You see, George loves cake. . . . Uh-oh. What to do now? It's so hard to be a good dog when there are cats to chase and flowers to dig up! What ever will Harry say when he gets back? Chris Haughton's fetchingly funny story and vibrant, retro illustrations are sure to lure dog lovers of all ages — and anyone who has ever met a temptation too good to resist.
*Despite our best efforts to predict the demand for books, the magical spells we use sometimes fail us. So to check if we have the book in-stock before you place your order, contact us at 6702 2452 or drop us an email at myimaginationkingdom@gmail.com
Reading Level: 3+
Reviews:
"We recently read Little Owl Lost by this author and saw that he had a new book out. We loved the dog on the cover and just had to borrow it from our local library.

This tale is funny, repetitive and in the case of many dogs, all-too true. We really enjoyed reading this book together and we liked it even more than Little Owl Lost. The illustrations are very orange-y, but they are very fun and expressive. Our girls joined in on the refrain of "Oh no, George!" with a lot of enthusiasm. I think this book would work very well with a group, as well as for one on one reading."
"It's hard to resist impulses to do things you shouldn't. George, the dog learns how to apologize for what he's done and resist impulses in the future. Simple and fun. Enjoyable art. This is one of my littlest' new faves."
Click here for the original reviews
Related products