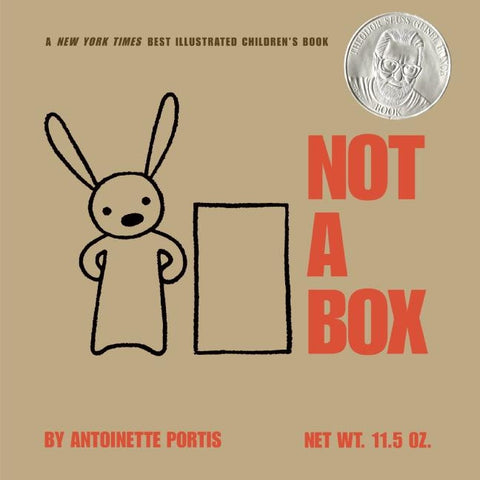 Not A Box by Antoinette Portis (Hardback) Winner of 2007 Theodor Seuss Geisel Award Honor
A box is just a box . . . unless it's not a box. From mountain to rocket ship, a small rabbit shows that a box will go as far as the imagination allows.
Inspired by a memory of sitting in a box on her driveway with her sister, Antoinette Portis captures the thrill when pretend feels so real that it actually becomes real—when the imagination takes over and inside a cardboard box, a child is transported to a world where anything is possible.
*Despite our best efforts to predict the demand for books, the magical spells we use sometimes fail us. So to check if we have the book in-stock before you place your order, contact us at 6702 2452 or drop us an email at myimaginationkingdom@gmail.com
Reading Level: 1+
Reviews:
"My oldest son read this in school and now we read it to my youngest and encourage both boys to use ordinary objects in extraordinary ways. We love it."
"I'm an Elementary School art teacher and I read this book to my kindergarten and 1st grade classes every year. They love it! I usually have to read it at least 2-3 times in the same class. I leave it out because they love that they can read it too. We usually do an art project where they come up with a drawing of their own "not a box." It's been very successful. I recently bought 2 more for my nieces."
Click here for the original reviews
Related products