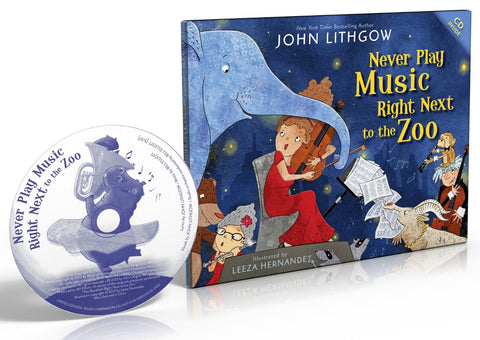 Never Play Music Right Next to the Zoo by John Lithgow (Book and Audio CD)
This lively and lyrical jaunt from actor and author John Lithgow comes with a CD of his celebrated song!

Oh, children! Remember! Whatever you may do,
Never play music right next to the zoo.
They'll burst from their cages, each beast and each bird,
Desperate to play all the music they've heard.

A concert gets out of hand when the animals at the neighboring zoo storm the stage and play the instruments themselves in this hilarious picture book based on one of John Lithgow's best-loved tunes. This package includes a CD of John and an orchestra performing the song!
*Despite our best efforts to predict the demand for books, the magical spells we use sometimes fail us. So to check if we have the book in-stock before you place your order, contact us at 6702 2452 or drop us an email at myimaginationkingdom@gmail.com
Reading Level: 4+
Review:
"John Lithgow: a man who can rhythm and rhyme in a sea of horrid celebrity picture books and actual authors with no sense of rhyme. This is a readaloud delight, with many nice touches in Leeza Hernandez's illustrations as well (parents of different races; musicians in their underwear; a goat who eats the bouquet given to him). Be sure to listen to the CD, too, as it includes John's sung version of the book (with an extra chorus) alongside full orchestra."

"This is such a cute book! The animals in the zoo enjoy the sound of the orchestra so much that they break out of their cages and take over the performance. This book would be good for a music class as well because the animals introduce many types of instruments."
Click here for the original reviews
Related products