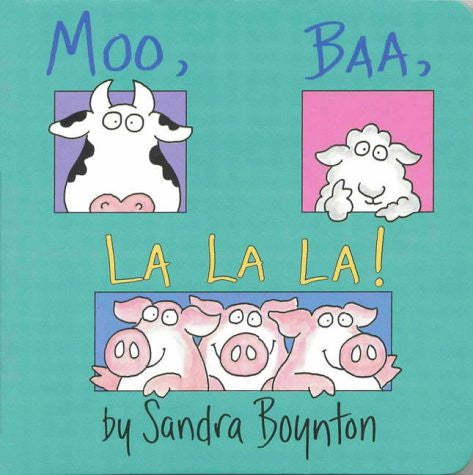 Moo, Baa, La, La, La! by Sandra Boynton (Board Book)
A cow says MOO.
A sheep says BAA.
Three singing pigs say LA LA LA!
"No, no!" you say, "that isn't right.
The pigs say OINK all day and night."
The original Moo, Baa, La La La! sold more than 3 million copies when it was first published, and thirty years later this delightful board book remains a favorite among children and parents. Complete with silly rhymes and containing redrawn art that retains all the humor and charm of the original illustrations, this book introduces children to animal sounds like only Sandra Boynton can!
*Despite our best efforts to predict the demand for books, the magical spells we use sometimes fail us. So to check if we have the book in-stock before you place your order, contact us at 6702 2452 or drop us an email at myimaginationkingdom@gmail.com
Reading Level: 1+
Reviews:
"I am an American, first-time Mom, living overseas and am building a collection of kid's books, in English, for my 7 1/2 month old son. By chance, while on a trip to NY when my son was only 5 months old, I purchased this book. As sort of joke I immediately began reading this and other books to him thinking he was too young to respond. Boy was I surprised! If he even sees the cover from afar he grunts for me to read it to him! As soon as I finish he continues this over & over again! There are other books that he enjoys (Goonight Moon,Time to Sleep, Chicka Chicka ABC), however, none compare to his love for Moo Bah LaLaLa! As soon as those 3 words come out of my mouth he quiets. I am absolutely amazed and recommend this title to all new parents."

"We got this book for our 4 year old daughter when she was 2, and it became her all-time favorite book. It helped her to increase her speech by saying fun things. We then introduced it to our 2nd daughter when she was 20 months old, and she also adores this book and it is the one she always gets every night and says "book" to have it read. We only say the first part of each page (i.e., "The pigs say...") and she always finishes the second part (i.e., "LaLaLa"). This is an absolute must have along with "But Not The Hippopotamus" by Boynton. These are GREAT gifts for baby showers or 1st birthdays.If you are considering ordering this - Go ahead and do it now! You WON'T be sorry that you did!"

Click here for the original reviews
Related products