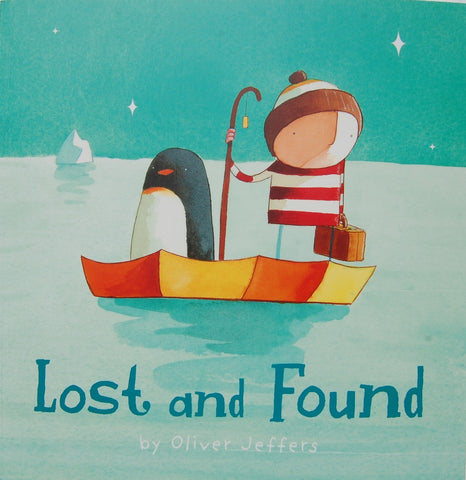 Lost and Found by Oliver Jeffers (Hardback)
From the illustrator of the #1 smash hit The Day The Crayons Quit comes a humorously warm tale of friendship. Now also an animated TV special!

What is a boy to do when a lost penguin shows up at his door? Find out where it comes from, of course, and return it. But the journey to the South Pole is long and difficult in the boy's rowboat. There are storms to brave and deep, dark nights.To pass the time, the boy tells the penguin stories. Finally, they arrive. Yet instead of being happy, both are sad. That's when the boy realizes: The penguin hadn't been lost, it had merely been lonely.

A poignant, funny, and child-friendly story about friendship lost . . . and then found again.
*Despite our best efforts to predict the demand for books, the magical spells we use sometimes fail us. So to check if we have the book in-stock before you place your order, contact us at 6702 2452 or drop us an email at myimaginationkingdom@gmail.com
Reading Level: 3+
Reviews:
"'The penguin is so adorable and the illustrations (which at first didn't appeal to me all that much, except for the penguin) grew on me. I especially liked the wild sea picture with the huge wave and the lightning, and the whimsical one when first seeing the South Pole.

The story is a cute one about friendship, and the reader/listener will learn a little bit about real penguins too, even though the story itself is a fantasy. I love how concerned the boy is for the penguin's welfare and does the research he does in order to help the penguin.

I got a kick out of the author bio on the inside back cover, complete with the author as a little boy, making a funny face. The paragraph about how this story came to be is amusing and told in a way that had me smiling."
"This is the sweetest book. I would say this is a perfect book with many good lessons about friendship for young children. I also think this is a great books for anyone (teens, young adults and older). It has lovely illustrations. A true delight.

The premise is that a boy opens his door to find a penguin. He works to find out whether the penguin is lost, and to where should he be returned. Ultimately boy and penguin travel to the South pole. Boy leaves penguin on ice floe only to realize that the penguin was not lost, he was just lonely. Boy and penguin are reunited, leaving them and the reader happily ever after."
Click here for the original reviews
Related products