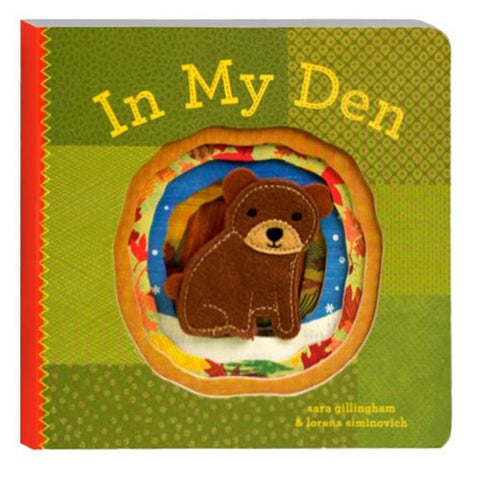 In My Den by Sara Gillingham (Board Book)
Turn the colorful die-cut pages of this irresistible board book to discover just what makes little bear's den so cozy. Is it little bear's warm earth and fluffy bed of leaves? No, it's his loving family! Bright pictures, reassuring messages, unique layered pages and an adorable felt finger puppet attached to each book combine to create interactive reading and playtime fun!
*Despite our best efforts to predict the demand for books, the magical spells we use sometimes fail us. So to check if we have the book in-stock before you place your order, contact us at 6702 2452 or drop us an email at myimaginationkingdom@gmail.com
Reading Level: 3+
Reviews:
"A baby bear describes the things it does to prepare for hibernation and winter. A finger puppet is attached to the book and is able to manipulated throughout the die-cut pages. Fun read aloud, especially as the weather turns colder for babies and toddlers."
"This book is a fun book about a bear and all the things his does in his den durning the year. The bear is fuzzy so it gives children something to feel which is exciting for them. This is also a book where you can teach children about the seasons because each page is a different season on the year."
Click here for the original reviews
Related products